Facebook is connecting the whole world together, reuniting old friends, and distributing cat videos to the masses.
But they got caught doing something far less honorable, and for that an entire department just paid the price.
This story has been simmering for the last few months since it was discovered that Facebook was not being entirely forthcoming about how they featured news stories, and it looks like progressive liberal error was at the heart of their "innocent" mistake.  While claiming they are not the bad guy, Facebook has finally taken some action to assure the public it won't happen again.
Breitbart reports:
Facebook has fired its Trending News team, responsible for curating the social media network's "Trending News" list, after Breitbart Tech began to reveal their progressive biases last month. The team is set to be replaced by a team of engineers managing an algorithm.
Facebook's Trending News feature is supposed to present users with the most popular news topics being discussed across the platform. But a Gizmodo exposé in May revealed that Trending News operated much like a traditional newsroom, with a team of "curators" selecting stories they considered newsworthy.
It was later revealed that the team artificially injected stories that were not trending into the Trending News feed, and routinely suppressed topics that were of interest to conservatives. 
Now, according to Quartz, Facebook has laid off its entire Trending News staff as they move towards a more algorithm-focused process.
Mark Zuckerberg can't be happy about this.  For a social media giant that has largely stayed out of the political fray while enabling new industries of communication, to be fingered for tilting the scales in the Democrats' favor is pretty embarrassing.  Here's what you will see instead:
Descriptions for trending news topics, which Facebook says was the primary reason for employing news curators, will be removed.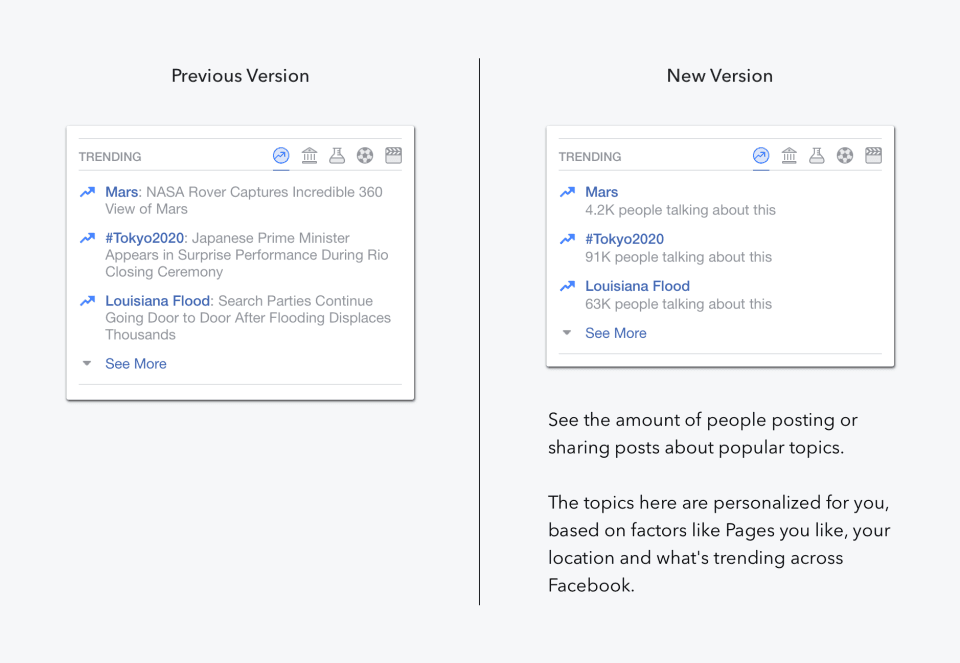 Will this fix the problems that have cropped up for Zuckerberg and Co.? Here's what Breitbart thinks:
But the focus on Trending News masks an even bigger problem for Facebook: bias in its system of punishments and suspensions. While the social network is usually quick to reinstate accounts that have been wrongly suspended, its record of suspicious suspensions of high-profile conservatives and critics of progressivism is easily equal to Twitter's.
We count it a privilege to use Facebook as part of our platform, but make no mistake abuot it, we challenge them to be open and honest about the news they promote and refrain from suspending content that they disagree with on a political basis.  Freedom of speech will benefit everyone, and we should all have faith that the next president of the United States can be chosen by an informed American electorate instead of a controlled one.
Source: Breitbart
[fbcomments width="100%" count="off" num="3"]