Liberal Pollster's Advice For A Trump VICTORY…Get THIS Group TO VOTE!
With the election upon us like the rising morning sun, both conservatives and libertarians are excited for what the day holds!
The majority popular vote is most definitely on Donald Trump's side, but now the republican nominee holds the task of garnering the necessary electoral votes to take the election. And, one poll is showing how he can do this!
Left-leaning pollster Nate Silver has some new numbers to share showing Trump in better shape in this election than Mitt Romney was in 2012, particularly depending on if Trump can get voting support from America's blue-collar voters.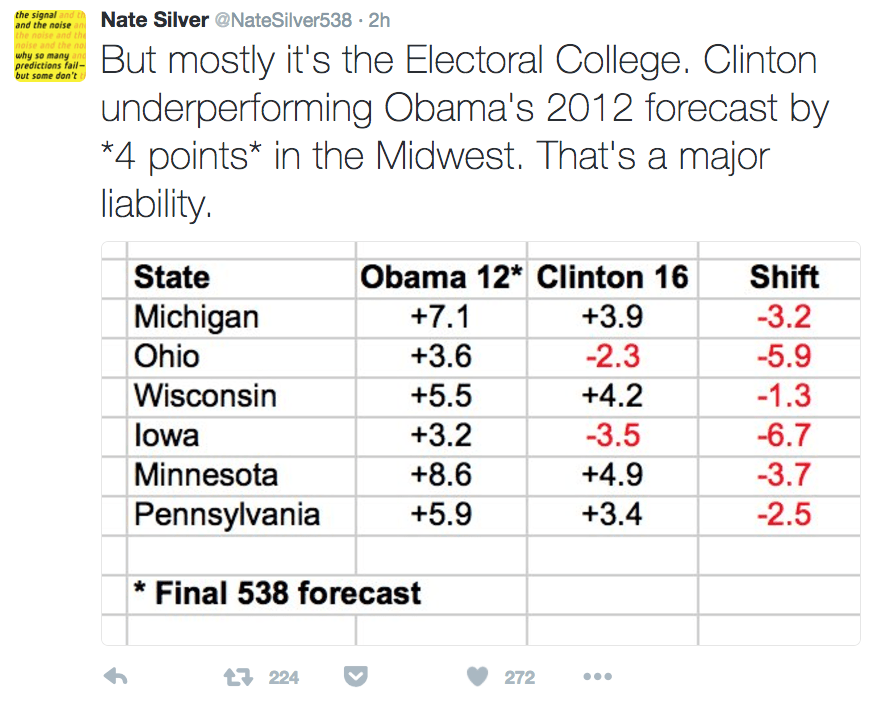 Breitbart relayed some insights from Silver:
Silver's analysis shows Trump has gained 6 points over Romney in Ohio and Iowa, and has closed the gap with Hillary Clinton down to almost error-margin levels in crucial Michigan and Pennsylvania.
That midwestern success is what gives Trump a one-third chance of winning the election, said Silver. "Clinton underperforming Obama's 2012 forecast by *4 points* in the Midwest. That's a major liability," he tweeted.
On Sunday night, according to RealClearPolitics's average of polls, Clinton was ahead of Trump in Pennsylvania by just 2.4 points (46 percent to 43.6 percent), and ahead in Michigan by 4.7 points (44.7 percent to 40 percent). A win in either state could be enough for Trump to win the election. 
GOP leaders in Michigan and Pennsylvania have plenty of reasons for optimism, even as Trump is still lagging in the polls.
"I think what's happening is that you're seeing demographic shifts that cross state lines," said Saul Anuzis, a former chairman of the Michigan GOP. This shift reaches across Michigan, Ohio, Wisconsin, Pennsylvania," he told Breitbart News.
These blue-collar voters can be difficult to get to the polls, he warned. "It is difficult to turn them out [on election day]. But the fact that they are willing to stand in line for hours [at Trump rallies] tells you something," he said. "I would not be surprised if Trump won 40 states or lost 40 states — if the wave of blue collars comes out, I can see him sweeping the states."
In a bus trip across the northern part of the state, GOP spokeswoman Sarah Anderson kept track of the lawn signs and posters. "It was all Donald Trump … I would say it was 99 to 1 [and] I think I saw six Hillary signs in our trek," she told Breitbart News. Compared to the Democrats, "there is a huge enthusiasm gap … everything is trending Trump across the country," she added.
Top GOP leaders are acting bullish. GOP chairman Reince Priebus says the polls in Michigan are tied. "We've invested over $100 [million] in data … predictive modeling tells us it's tied," claimed Priebus, without defining "tied."
Saying it's "in the bag" for Trump might be a little premature, but seeing the turnout at his speaking events can't help but make us excited!
At this point, with election day here and no more moves to make to help elect Trump other than vote, all we can work on is a solution in the event Hillary's dirty tricks wins her the House.
Source: Breitbart