NFL Commissioner Sparks Civil War – Then NFL Megastar Stuns Veterans With 5-Word Surprise
It hasn't been a great few years for the NFL. Thanks to the political stunt staged by now out-of-work Colin Kaepernick, the sport is in crisis. Fans are dropping out, money is being lost, and a war is raging behind the scenes. But all is not lost, at least if you know where to look.
When former quarterback Kaepernick started to kneel during the Nation Anthem, many players followed. Fans were outrage (as I sure many of you were) that these highly-paid athletes would insult the very country that allows them the privilege to play football.
Things only got worse when the head of the NFL, Commissioner Roger Goodell, refused to require players to stand. That has only upset viewers and fans all the more.
We are learning that Goodell is up for renegotiations. Team owners are demanding changes to the man's contract and pay. Meanwhile, Goodell is asking for a massive pay increase and special perks for himself and his family.
All-out war is being waged between the league and its top owners, like Jerry Jones. Looks like things are getting ugly.
From New York Post:
If Roger Goodell can demand a private jet and healthcare for life, Jerry Jones expects the absolute most of the league's commissioner in return.
Negotiations for Goodell's contract extension have become complicated as Jones wages a civil war against the 11-year commissioner, stemming from the fallout of Dallas running back Ezekiel Elliott's six-game suspension.

"I'm gonna come after you with everything I have," Jones said, per a lengthy ESPN report, published Friday.
Sides are being taken and it looks like the fate of the NFL will be decided. If Goodell gets his way, many owners might sue out of protest. If the owners, led by Jones, get their way, then Goodell is out and maybe the sport's reputation can be salvaged.
All this, because a few idiots decided to kneel. Meanwhile, an NFL legend has weighed in on the issue. His words not only put protesters in their place, but praise the real heroes in our country.
From New York Post:
Herschel Walker, the ex-NFL luminary, is firing on all cylinders for America's military heroes and first responders — hot on the heels of his recent criticism of NFL Commissioner Roger Goodell for not quelling the national anthem protests…
"I absolutely think the protests are so upsetting, and I blame the commissioner," he said.
"I know people are going to be angry when I say it, but he should have stopped the protests at the very beginning."
The Heisman Trophy winner doesn't beat around the bush. "Guys, let me tell you this," he said. "Our flag is very special, and black lives matter, but what we should do is go to Washington after the season and protest there instead. We have young men and women fighting for the flag. And we have to respect the White House."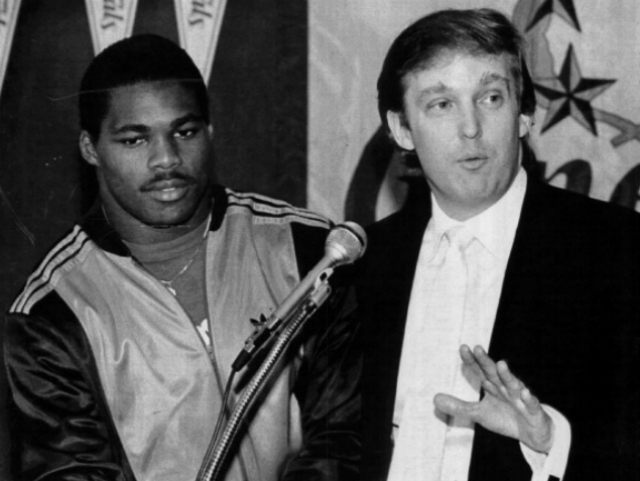 Those are some smart, sensible words. Something few people within the NFL seem to understand. As rich owners and commissioners battle it out over contracts and cash, an NFL icon is speaking the truth.
Not only did Walker express the kind of thoughts we all are sharing, but he did it as he announced a special contest to honor American servicemen. The winner will receive a special Chevrolet Silverado worth $80,000. Now that's what I call honoring the troops!
Maybe the NFL can learn a thing or two from Mr. Walker.