Obama Flees Trump's America For Europe…But He's In For A NASTY Surprise!
November 8th was a crippling blow to the left, and especially to its leader, Barack Obama.
Since becoming President of the United States, he has lost control of the House, the Senate, and a slew of governorships and state legislatures.  And with Donald Trump's victory, Obama's signature achievements and most of his legacy will be erased, deleted, nada.  So no wonder only days later he ran to liberal Europe for some comfort.
On a "farewell tour," Obama planned to meet with Europe's leaders to discuss the implications of changing leadership in America.  He thought he would be welcomed with open arms.
Breitbart reports how it could not have gone worse:
Left wing demonstrators have rioted and attempted to attack and firebomb the U.S. embassy in Greece, protesting the visit of outgoing American President Barack Obama.
Around 7,000 took to the streets of central Athens on Tuesday, to signal to Mr. Obama that he was not welcome as he arrived in Europe for a farewell tour of the continent.
"We don't need protectors!" one banner carried by demonstrators read. "Yankees go home!" the crowds chanted, just a few miles from where the President was hosted for a state dinner with Greek Prime Minister Alexis Tsipras.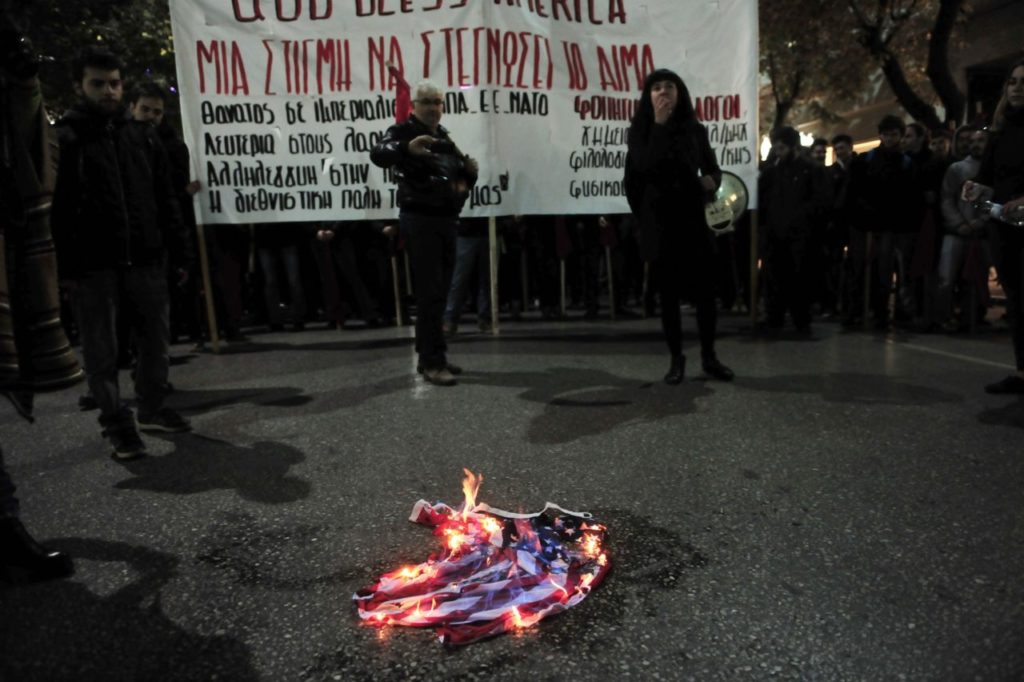 (SAKIS MITROLIDIS/AFP/Getty Images)