Despite what desperate liberals are saying, or what the mainstream media is publishing, things are looking up for the United States.
It's imperative that ignore the vile lies and miserly currently being spread by the bitter, sore leftists. Embarrassed by their crushing defeat in November, they will stop at nothing to discredit Donald Trump before he even takes office. Any victory he and his administration achieves will be downplayed or ignored.
The good news is, they are doing a very poor job at attack Trump, as he is responsible for one victory after another.
On the back of jobs coming into the country, and a possible repeal of Obamacare soon to come, small businesses are actually enjoying a surge of optimism.
At highest unseen for quite some time.
From Bloomberg:
Optimism among America's small businesses soared in December by the most since 1980 as expectations about the economy's prospects improved dramatically in the aftermath of the presidential election.
The National Federation of Independent Business's index jumped 7.4 points last month to 105.8, the highest since the end of 2004, from 98.4. While seven of the 10 components increased in December, 73 percent of the monthly advance was due to more upbeat views about the outlook for sales and the economy, the Washington-based group said.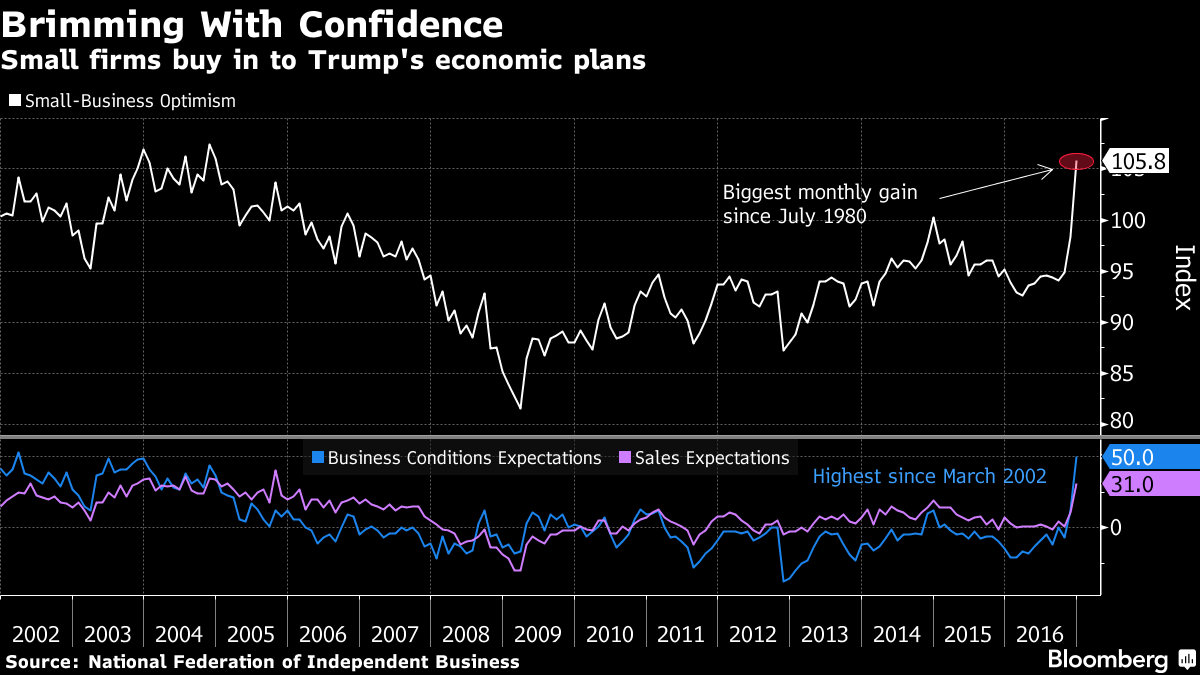 Small businesses are eager to expand and grow, thanks to confidence that the next President will create an environment conducive to success.
It's no surprise. Whenever a democrat takes office, you can expect greater taxes and heavier burdens for hard working Americans. This just to fuel liberals' bloated government programs that reward under achievers and punish the successful.
But with Trump taking office, we are sure to see a lowering of taxes and increased incentives for people to do business. With his emphasis of bring jobs back to America, small businesses from all facets of industry can expect more opportunity, growth, and business.
"We haven't seen numbers like this in a long time," Juanita Duggan, president and chief executive of the NFIB, said in a statement. "Small business is ready for a breakout, and that can only mean very good things for the U.S. economy. Business owners are feeling better about taking risks and making investments."
Let's hope this confidence continues to grow and pays out over the next few years.
Source: Bloomberg
[fbcomments width="100%" count="off" num="3"]