ROASTED: Famous Magazine MOCKS Hillary Clinton…Liberals Are FURIOUS Over This!
The mainstream media may be uniformly liberal, but apparently there's a outlier: One historic magazine has come out skewering Hillary Clinton, and her fans will be outraged.
Many don't realize that Mad Magazine is not only still publishing, but has a long history of inserting timely political satire into its cartoons and other "kid's stuff." The issue doesn't hit the news stands until October 11 but already, the Huffington Post is reporting on it:
The venerable humor magazine skewers Clinton in its latest issue with a My Little Pony spoof called "My Little Phony."
The spread points out a few of the times when the former secretary of state was caught fibbing, but in cartoon horsey form.
The cartoon panel illustrates a number of Clinton's scandals as typical My Little Pony "adventures":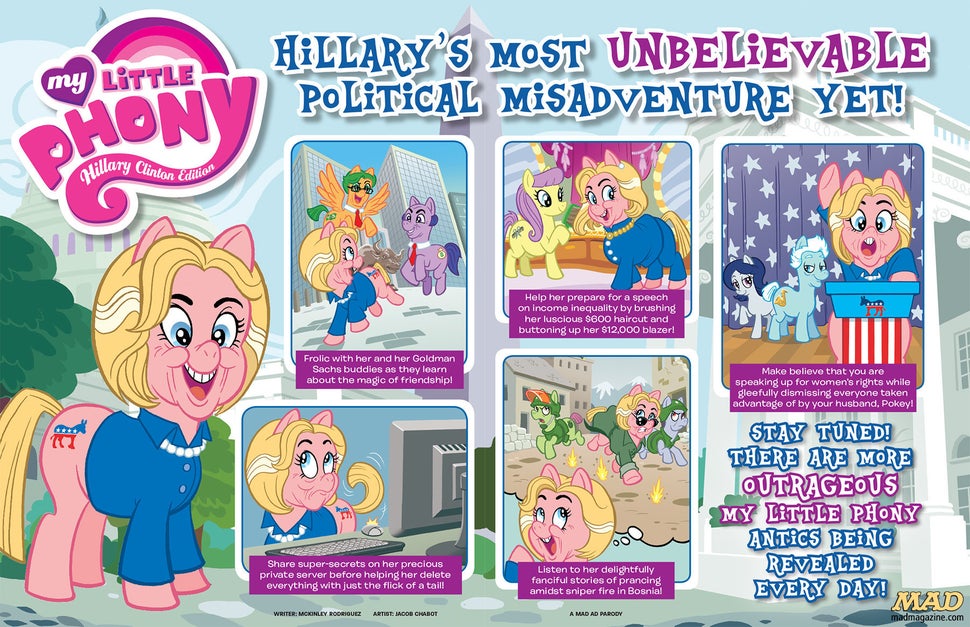 "Help her prepare for a speech on income inequality by brushing her luscious $600 haircut and buttoning up her $12,000 blazer!"
"Listen to her delightfully fanciful stories of prancing amidst sniper fire in Bosnia!"
The cartoon concludes, "Stay tuned! There are more outrageous My Little Phony antics being revealed every day!"
It's funny, but also sad that Mad Magazine just devoted more space to exposing Hillary Clinton's scandals than many serious publications.
Credit: Huffington Post