America Is Officially Great Again – U.S. Reclaims A Top Ranking It Lost Under Obama
With President Trump in the White House, America is rolling again.
And for the first time since losing a major world ranking, the U.S. is back on top … where it belongs.
Trump's tax cuts and other economic maneuvers have been controversial but here's the bottom line: they're working.
Second-quarter growth this year has reached 4 percent, and wages for American workers are the highest they've been in over a decade.
Unemployment is at an 18-year low and if you own a small business, you're likely in a better environment than you've ever seen.
The mainstream media doesn't want you to know any of this, of course, but the facts remain.
All told, over 3 million jobs have been created under Trump and now, as reported by Bloomberg, the U.S. is once again a true world power:
"The U.S. dethroned Hong Kong to retake first place among the world's most competitive economies, thanks to faster economic growth and a supportive atmosphere for scientific and technological innovation, according to annual rankings by the Switzerland-based IMD World Competitiveness Center.
The U.S., which reclaimed the No. 1 spot for the first time since 2015, scored especially well in international investment, domestic economy and scientific infrastructure sub-categories while earning below-average marks in public finance and prices."
This is a major upswing for our country.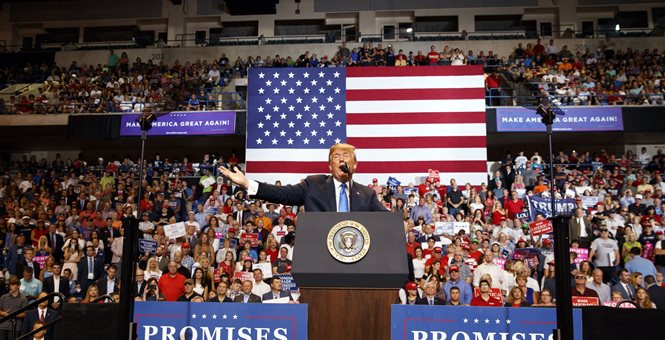 Not only are we once again producing at a decent level, but we're also progressing … for the first time in a while.
Under Obama and his toxic liberal policies, the entire economy suffered.
Businesses struggled (many of the bigger companies simply escaped overseas), assistance programs like welfare skyrocketed, and the economy just continued to sink.
But again, that's not what the leftist-oriented media would have you believe. Nor do they want to tell you how Trump is turning it all around.
The truth is out there, though, and we're making sure people are aware:
Donald Trump IS making America great again, and the proof is in the numbers.
Maybe the rest of the world will once again see the U.S. as the world power it was always supposed to be!
Don't you think we're headed in the right direction?
Source: Townhall