Liberals Find Out 'America's Got Talent' Star Is A Trump Fan – Their Next Move Is DESPICABLE
The liberal entertainment industry is trying to destroy a conservative performer's career…
…but he's not the only one who's been targeted.
Outing yourself as a conservative appears to be the Kiss of Death in Hollywood.
After Tim Allen came out in support of the President, his hit show Last Man Standing was pulled off ABC.
Even though it was eventually picked up by the Fox network, ABC also pulled Roseanne off the air after the star tweeted an insult to former Obama advisor Valerie Jarrett.
Most conservatives in Hollywood stay quiet in order to keep their careers, because the top commandment in the entertainment industry is:
"Thou shalt be a liberal."
Now, a popular musician just broke that commandment after making a pro-Trump post on social media.
From Fox News:
"'America's Got Talent' alum Benton Blount abruptly lost his opening-act gig on ZZ Top guitarist Billy Gibbons' concert tour…

…after his pro-Trump Facebook post got him temporarily banned from the social media website."
Blount was four shows into the seven-show slot when he learned he was kicked off the tour, South Carolina's Greenville News reported.
The post showed Blount wearing a red 'Make America Great Again' hat and an 'I Voted' sticker on Election Day while holding a Chick-Fil-A sandwich and drink.
The photo carried the caption, 'Someone reading this just got offended multiple times. My work here is done! #Vote.'"
Well, Blount was right.
His post did offend certain people, and unfortunately they were very powerful people who decided that he should be severely punished.
Facebook removed both the post and banned his account, for "violating community standards".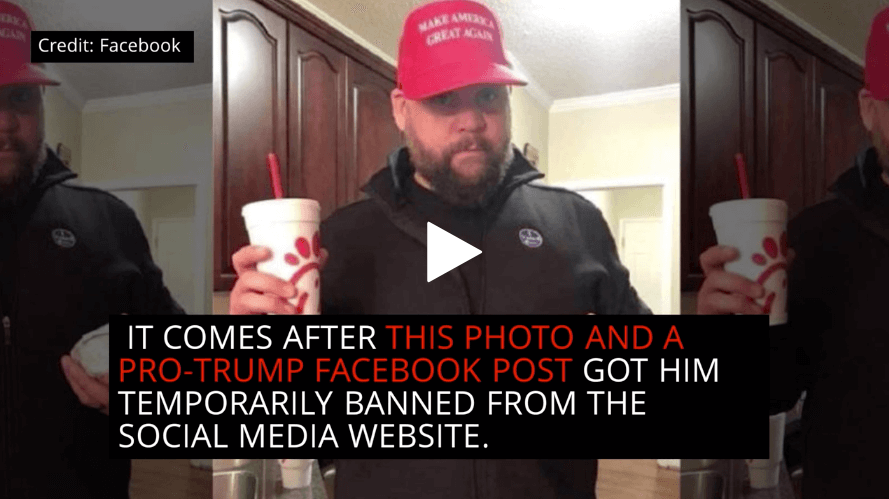 Yes, it has become increasingly apparent that conservatives do NOT enjoy freedom of speech in this country anymore.
The Left has become so oppressive, even downright fascist, and their suppression of conservatives has now damaged a talented man's career.
Said a disappointed Blount:
"I thought that it would be OK for me to post that I voted. I thought that it would be OK for me to say who I supported.

I had a MAGA hat on. For that reason, and that reason alone … my career is on hold for the week."
But Blount is determined to not let the liberals bully him into submission.
"As cool as this tour is, I'm not going to start not posting a picture of me voting because somebody might realize I voted for somebody they don't like."
We wish you luck Mr. Blount!
And remember, with conservative views being oppressed EVERY DAY, we must attempt to rise up and be heard!
Source: Fox News