Biden Suffers Major Court Loss – The DOJ Is Ordered to Turn Over All Records from Key White House Officials
For years, right-wing leaders have been accusing the White House and Big Tech of censoring conservative viewpoints. This includes the biggest social media companies in the world, like Meta and Twitter.
Now, Missouri Attorney General Eric Schmitt is pushing a lawsuit against the Biden administration, regarding alleged coordination with social media.
And Schmitt's team just earned a significant victory.
The court handling the case has ruled that the Biden admin must turn over all records from key officials. These records will include any communication between Big Tech conglomerates and elected officials.
Key names included in the lawsuit are Dr. Anthony Fauci and current White House press secretary Karine Jean-Pierre.
It's a notable win because it means the government must cooperate with the lawsuit and provide evidence of communication. There could be information in these records of the aforementioned "coordination."
Schmitt tweeted: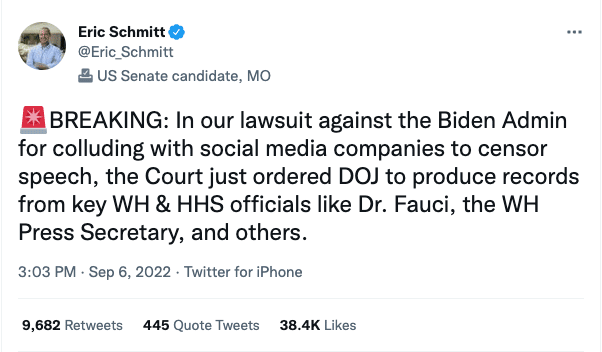 U.S. District Judge Terry A. Doughty said in the ruling that the plaintiffs "are entitled to external communications by Karine Jean Pierre and Dr. [Anthony] Fauci."
As a result, he's ordering that both will "provide answers to the Plaintiff's interrogatories and document requests within twenty-one (21) days from the date of this order."
On top of that, Judge Doughty ordered the Biden administration to hand over any records from the HHS' deputy assistant secretary for public engagement, as well as other high-ranking officials in Washington.
All told, Schmitt claims that the DOJ identified 45 federal officials who communicated with social media companies about "misinformation."
The social media companies in question include Meta, Twitter, and YouTube.
The Missouri AG finished by saying that Americans "deserve to see the truth," even though many Conservatives already believe they know the truth: that they've been silenced for years.
We've seen countless accusations of content being censored, accounts being banned, and some posts being completely removed, with little or no explanation provided by the company. And this content seems to invariably involve Conservative views.
Big Tech has been under heavy scrutiny for a while, as right-wing citizens have felt continually persecuted for simply voicing their opinions.
And if the Biden administration really did assist in this coordinated suppression of certain beliefs, that's a serious problem. And AG Schmitt and many others demand answers.
Key Takeaways:
Attorney General Eric Schmitt scored a big court victory in his lawsuit against the Biden administration.
The judge has ordered the White House to hand over records of communication between elected officials and Big Tech companies like Meta and YouTube.
Included in the lawsuit are Dr. Anthony Fauci and press secretary Karine Jean-Pierre.
Source: The Daily Wire