Border Wall Shutdown Poll Drops For 2019 – Democrats In Deep Trouble
Chuck and Nancy thought the media would cover for them – but Trump is proving them wrong.
The left-wing media continues to defend the Democrats' government shutdown. They say Americans do not want Trump's "immoral" wall.
So, the Democrats will continue to shut down the government to prevent that from happening.
But, as usual, their polls must be broken, because real Americans are demanding something much different.
From Breitbart:
President Trump's proposed wall along the United States-Mexico border has soared in popularity with American voters across the board, as he battles a split GOP-Democrat Congress to secure funding for the barrier…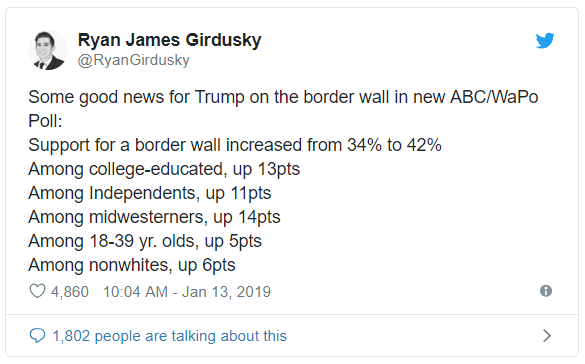 This time last year, the poll claimed that only 34 percent of voters supported a wall at the U.S.-Mexico border. Today, support for the wall has climbed to 42 percent overall. Most notable, swing voters are increasingly supportive of the border wall to control immigration.
I think it's safe to say that most Americans are tired of this government shutdown, and they're tired of politicians ignoring our safety.
More than a few hate that Democrats are letting border jumpers in. We've seen how it hurts regular Americans on an almost daily basis.
Only the Democrats still oppose the wall.
They seem to forget that millions of Americans voted for Trump because they want the wall.
With each passing day, we see how much we need a border wall. Americans are demanding that something changes.
The government has to open and the wall needs to be built.
How long can Democrats go with Americans turning on them? Probably not for much longer.
SHARE to tell Nancy Pelosi to give up and fund the border wall!
Source: Breitbart