New California Governor Announces – He's Giving Illegals An Outrageous Gift
Democrats continue to ignore the rule of law and order, especially in regards to immigration.
Nowhere is this more evident than in the socialist paradise of California.
The sanctuary state recently elected a new Governor, who is yet another ranting liberal that wants to take MORE taxpayer money.
And this time, he wants more taxpayer cash to fund a disgusting new plan…
And if it passes, it could be the beginning of the end for the Golden State.
From Breitbart:
"California Governor Gavin Newsom's first act in office was to propose extending state healthcare benefits to more illegal aliens.

On Tuesday, shortly after being sworn in, Newsom — who ran on the proposal of providing healthcare to everyone in California, though he struggled to explain how he would pay for it — signed an executive order taking steps in that direction.

In his first executive order, Newsom directed the state to create a single government purchaser for prescription drugs to increase negotiating leverage with pharmaceutical companies.

Alongside the order, Newsom proposed extending Medi-Cal — the state's version of Medicaid — to illegal aliens up to the age of 26, rather than 19."
Thanks to Governor Newsom, over 138,000 young illegals will get free healthcare, courtesy of California residents.
How could anybody support this guy's plan?!
It's not only economically absurd, but it's a brutal punishment for American taxpayers.
No wonder California is going broke and people are fleeing the state!
Newsom is also outspoken in his belief that California should not deport any "undocumented" immigrants, and promised "sanctuary to all who seek it".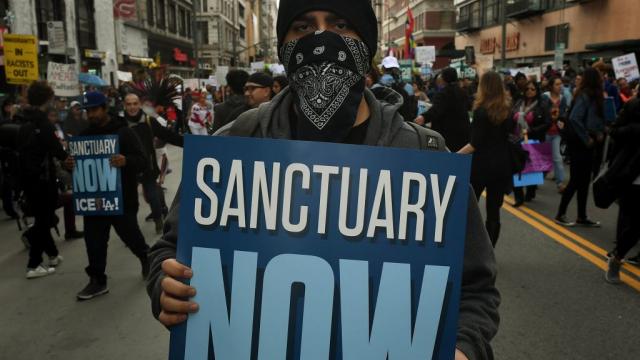 But in reality, California is only a sanctuary state for those who immigrate illegally.
For citizens like Kate Steinle and Ronil Singh, their state was no sanctuary at all, now was it?
Both were murdered in California by illegal aliens, but Newsom doesn't care about their families.
This is because Democrats will always put illegal immigrants first.
And it has to stop!
Source: Breitbart