After Congress Fails To Fund Wall – Trump Executes 'Plan B' To Build It Right Away
Congress failed Donald, so he's kicking Plan B into motion.
Above all else, Congress is supposed to keep Americans safe. But, yet again, they failed to do so.
So Trump is finding another way to keep his promise to build the big, beautiful wall.
He is resorting to Plan B, which might be the best solution after all.
From Twitter: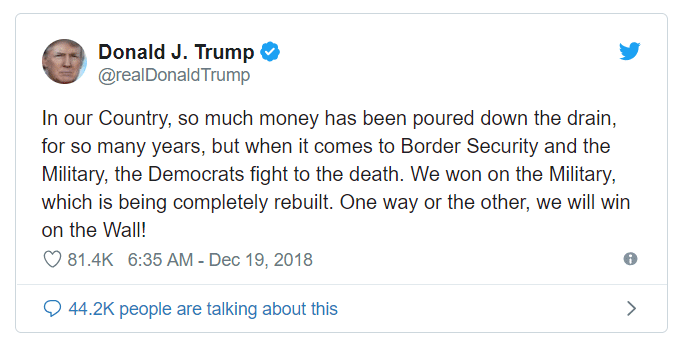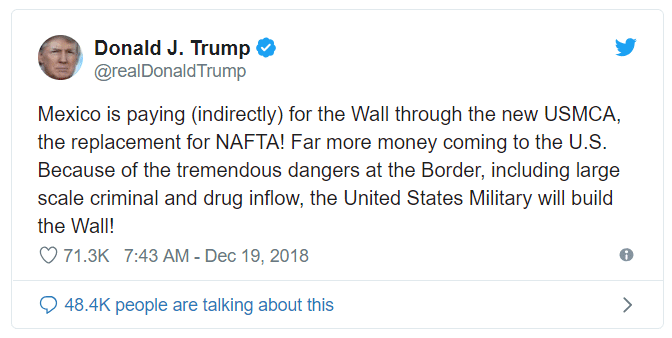 In our Country, so much money has been poured down the drain, for so many years, but when it comes to Border Security and the Military, the Democrats fight to the death. We won on the Military, which is being completely rebuilt. One way or the other, we will win on the Wall!

Mexico is paying (indirectly) for the Wall through the new USMCA, the replacement for NAFTA! Far more money coming to the U.S. Because of the tremendous dangers at the Border, including large scale criminal and drug inflow, the United States Military will build the Wall!
SHARE to thank President Trump for taking bold action!
Trump was not bluffing when he said he was going to build the wall. He scored a historic budget for the military.
There is nothing stopping him from using a portion of the military's funds to build a wall. A wall that is critical to our national defense.
Makes sense to me.
When you break it down, $25 billion is chump change compared to the Pentagon's annual expenses. And the skilled workers in the Armed Forces can get a wall done in no time.
The wall will perhaps make the biggest impact on our safety than anything in the past 50 years.
That includes controlling immigration and bringing an end to drug smuggling and human trafficking.
Don't be surprised if the Democrats try to block this move. But they are up a creek if they think they can get in the way of the U.S. troops and protecting our country.
SHARE to thank President Trump for standing up to Congress and FINALLY getting the wall built!
Source: Twitter