Ted Cruz Delivers The Truth About Immigration In Under 10 Seconds
Senator Ted Cruz knows the immigration problem isn't complicated at all. It's really this simple…
Senator Ted Cruz is currently running for reelection against an open borders Democrat.
But Cruz's latest comments are sure to put him even further ahead in the polls.
Texas is a border state, and illegal immigration is a hot button topic for residents, so Cruz and his opponents are sounding off on that topic.
Thousands of migrants from Mexico, Central and South America cross the border into Texas every year, wreaking havoc on the labor market and causing drug use and crime to spike.
But while his opponent prefers to ignore the criminal activities of illegal aliens, Cruz takes a much more American approach:
In mere seconds, he summarized how most of the country feels about people who ignore our nation's laws.
From Townhall:
"During a campaign stop Saturday in Corpus Christi TX, Senator Ted Cruz (R-TX) told the crowd of voters that he has a fairly basic view when it comes to the issue of immigration.
'You know, I have many times summed up my views on immigration in four words: Legal, good. Illegal, bad," Cruz said.
In reference to the upcoming midterm elections, Cruz added, 'This election is about jobs, it's about securing our border, and it's about protecting our constitutional rights.'"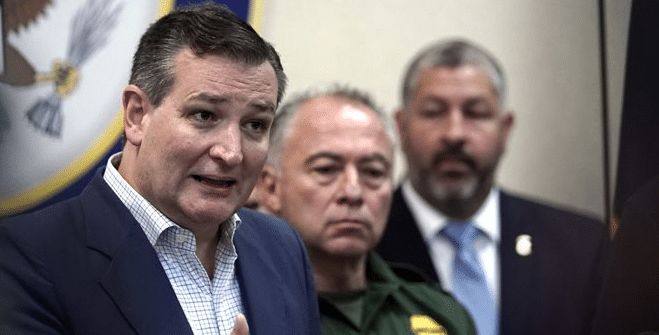 Senator Cruz has the right idea about illegal immigration. It really is as simple as following the law.
This is the only sticking point that liberals just can't figure out:
The Trump administration has never once stated it had a problem with immigration; it has a problem with illegal immigration.
Every other civilized country on earth has far stricter immigration laws, and no country is stupid enough to let just anyone waltz over the border.
If you want to get in, you have to be vetted. And you have to follow that nation's laws. Plain and simple.
Cruz hits the nail on the head by making his very clear statement: Legal, good. Illegal, bad.
And it's true, isn't it?
Source: Townhall