Democrat Leaders Handcuffed, Dragged Away At Trump Tower—Look What They Did!
Democrats are running out of options. With Donald Trump in the White House and millions of Americans backing him, the left is weak and getting weaker.
Even still, they refuse to reform in the hopes of winning over the American people. In fact, they continue to do things that prove they don't even care about what America cares about.
Now they are getting so desperate, that even their leaders are feeling the pain. Just ask these three Congress members, who were arrested for protesting. Ouch.
From ABC News:
Three Democratic members of Congress have been arrested on disorderly conduct charges at a protest outside Trump Tower.
U.S. Reps. Raul Grijalva, of Arizona; Luis Gutierrez, of Illinois; and Adriano Espaillat, of New York, were among a small group of demonstrators who sat down in the street on New York's Fifth Avenue on Tuesday and refused to move.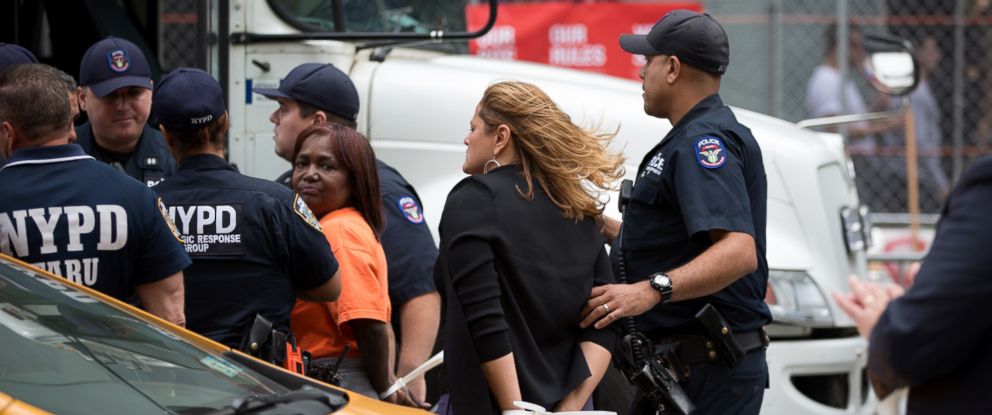 The lawmakers were handcuffed and led away. Police say they were issued desk appearance tickets and released.
The protesters were demanding that Congress pass legislation protecting thousands of young immigrants from deportation.
Protest organizers said before the event the lawmakers planned to get arrested.
President Donald Trump delivered an address at the United Nations earlier Tuesday. The Republican was scheduled to stay at Trump Tower afterward but wasn't present for the protest.
You can't really convince people that your view is just, when you're arrested for disorderly conduct.
This ain't the 60's anymore, folks. You can act like an idiot, expecting that to give some of kind progressive cred. If you get arrested for poor behavior, that's going to hurt you.
Unless you show you have plans to improve this country, solving our problems, you won't win over Americans.
To boot, they were protesting in order to protect illegal aliens. Hmm, not something that most Americans will be happy about. You basically are saying you're willing to go to jail, over people who are here wrongfully.
Good job.
Source: ABC News