Famous Democrat 'Won't Rule Out' Running For President… But Trump Would LOVE Him To
It seems like every Leftist lunatic in the country thinks they have a chance in 2020.
And now, another key Democrat just discussed throwing his hat in the ring.
Within the past two months the number of Democrat presidential candidates has been exploding.
Thus far, Elizabeth "Pocahantonas" Warren, Senator Tulsi Gabbard, and former Obama Housing Secretary Julian Castro have said they're a match for the President.
Each one is trying to convince the Left that they're the most radical candidate, and that they will hate President Trump and his "deplorable" supporters the most.
And the latest contender is no different … but he doesn't frighten Trump at ALL.
From Breitbart:
"New York City Mayor Bill de Blasio announced in a Sunday interview that he would not rule out a run for the presidency in 2020.

'I never rule things out, because you never know what life brings,' de Blasio told CNN's Jake Tapper on Sunday's broadcast of State of the Union.

De Blasio told Tapper he was 'focused' on being New York City's mayor, but also revealed he was eager to leave New York City and take his political message nationwide.

'I'm focused on the job I have but I've also been really clear — I'm going to spread this message,' he said."
de Blasio seems determined to infect the rest of the country with his Marxist agenda, even though it's destroying New York City.
His far left ideology has wrecked nearly all aspects of his city's economy, and the high taxes and sanctuary city status have caused thousands of New Yorkers to flee the state since he took over as mayor.
But de Blasio makes no apologies for being an outspoken communist, and claims moderate Democrats "did not learn the lessons of 2016."
"I want to push this whole party and I want to inform this debate in this country about the fact that we could go a lot farther…

…we could be a lot bolder than what we're doing now."
de Blasio's comments reveal how clueless he is about the lessons 2016 taught us.
The Democrats nominated a far-left candidate to go against Trump, and that's exactly why they DIDN'T win!
Moving further to the Left will do nothing to help his Party win back the White House.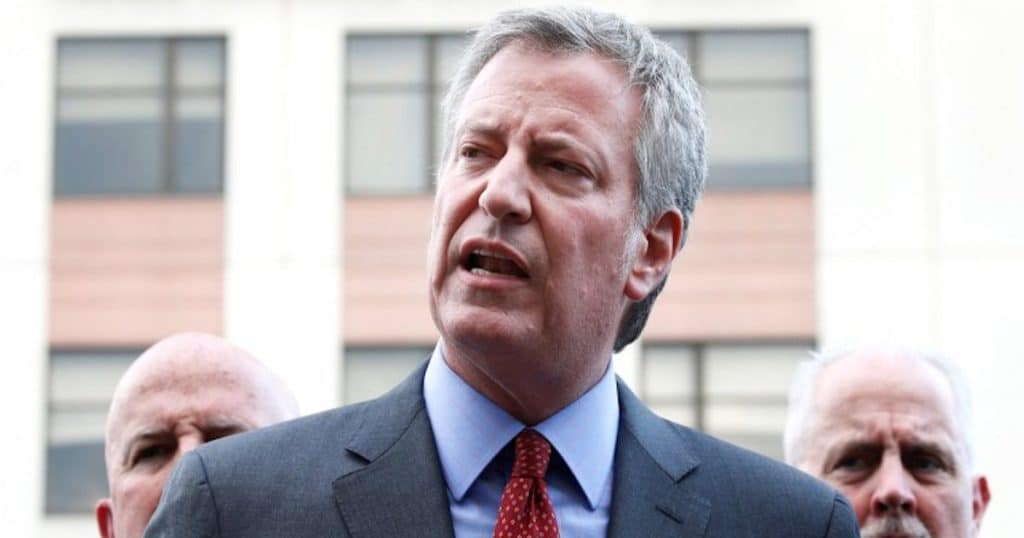 Remember, de Blasio is the guy who wants to give full healthcare to every NY resident, including illegal immigrants.
With a platform like this, it almost makes one hopeful that de Blasio might run, because he would get destroyed by Trump!
The last few presidential elections have boiled down to socialism vs. capitalism, and our last election showed that Americans are rejecting the Left's policies.
We can't let the left's dangerous Socialist policies in the door!
Source: Breitbart