Top Democrats CAUGHT Using Filthy Scare Tactic To FORCE Americans To Vote
This is just pure intimidation.
Democrats are really desperate, aren't they?
In the run-up to yesterday's election, they did everything they could to get people to vote.
That includes lying, cheating, and even intimidation.
More than a few people reported suspicious activity at polls, and there were even odd cases of voting machine malfunctions. Some weren't even plugged into the wall!
But the left's underhanded tactics went well beyond that…
It was discovered that numerous local Democrats sent out frightening literature to voters.
The message: vote, or else!
From Free Beacon:
"Individuals in at least three states have received literature from Democratic campaigns, organizations, or state parties warning that their voter records are public information.
In one of those states, residents received documents that reveal if their immediate neighbors have voted in past elections.
The language used on all three of the documents obtained by the Washington Free Beacon show that a unified theme of:
'…who you vote for is private, but whether or not you vote is public record' has been used throughout in an apparent attempt to push voters to the polls.
This is essentially saying that if you don't vote – DEMOCRAT – there are going to be consequences. Can you believe that?
But it's no surprise that the Democrats would use such tactics.
Democrats love using fear to push people to the polls; they trick many into voting, using race and gender as a ploy: "Vote for us, or the evil white/male majority will get you!"
This is nothing more than manipulation and intimidation.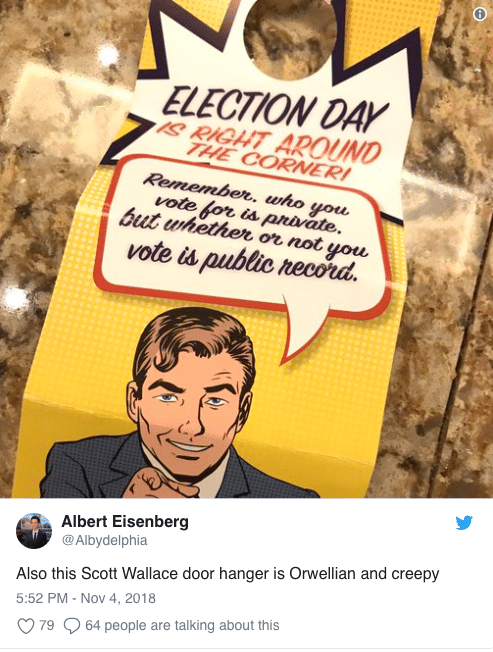 The truth is, they can't do anything to hurt non-voters. But that doesn't matter, because all they have to do is suggest what might happen if they don't vote.
But it looks like their fear monger worked, in some parts of the country.
Unfortunately, Democrats managed to claw back enough seats in the House to get a slight majority.
But at least Donald Trump is still President … take solace in that, America!
Source: Free Beacon