Democrats Hit With Midterm Investigation – Their Biggest Win Is Slipping Away
Democrats thought they won, but new evidence shows they are in deep trouble.
The 2018 Midterms were full of close races that suspiciously swung to Democrats in the end.
Republicans were able to maintain their victories in several states despite the Left's attempts to commit voter fraud, and secured Senate seats and governorships in Florida and Georgia after facing recounts.
But one particularly important race fell to the Democrats. Rep. Martha McSally lost to Krysten Sinema in Arizona when Maricopa County was finally tallied up a week after the election.
But the election may not be lost after all.
From The Daily Caller:
The Arizona Republican Party will conduct an independent audit of the Maricopa County Recorder's Office after three statewide Republican candidates who initially led on election night saw their races swing the other way as outstanding ballots were counted.

Despite leading on election night and for some time afterward, GOP Rep. Martha McSally ultimately lost her Senate campaign to Democratic Rep. Kyrsten Sinema…

The Arizona GOP wants to review the counting process in Maricopa County, the most populous county in the state.
This news is sure to be celebrated by Republicans in Arizona, who definitely suspect that Sinema and the Democrats employed some shady tactics to win her race.
Just look at the massive gap between the votes for Senator and the votes for Governor in Maricopa County.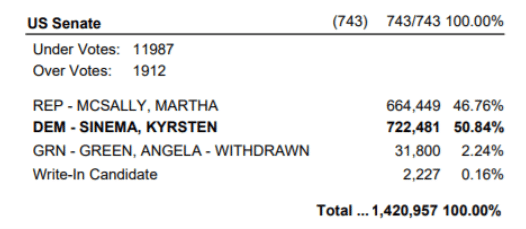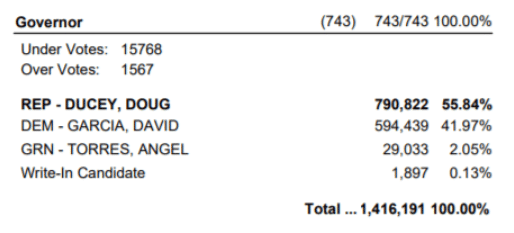 How did the Republican candidate for Governor get 790,000 votes in Maricopa County while Republican McSally only received 664,000 votes?
Were votes changed? Were ballots destroyed?
SHARE if you think Democrats stole the Arizona Senate seat!
That's exactly what the audit seeks to find out according to a press release from the Arizona GOP.
"It is the AZ GOP's hope that this audit will produce a fair, factually-based report that will help us better understand what happened in this drawn-out election and address the many concerns of the voters."
It's good to see Republicans taking a stand and challenging this nonsense. Joseph Stalin once said that, "It's not the people who vote that count, it's the people who count the votes."
And who is the person counting the votes in Maricopa County? Adrian Fontes, a Democrat.
Like Brenda Snipes in Florida, Fontes is trying to steal this election for the Democrats, but if this audit is closely watched, he may not succeed.
SHARE if you think Democrats stole the Arizona Senate seat!
Source: The Daily Caller