Democrats Unleash Anti-American Plot – New Refugee Invasion Set To Explode
For years, the United States has opened its doors to those in need.
Refugees from war-torn nations have found refuge in this country. But as a sovereign country, we have a right to set limits on how many enter.
Letting in too many foreigners can create disaster, as we've seen:
Many refugees have a hard time assimilating and often, we see them clash with residents. Sometimes refugees blatantly break our laws.
Despite these obvious problems, the Democrats are trying to force a plan that will cause refugee resettlement to explode.
They demand that President Trump let in hundreds of thousands of newcomers. It's a scheme that will alter our country forever…
From Breitbart:
"House Democrats' latest plan ahead of the 2018 midterm elections is to increase the number of foreign refugees currently resettled across the United States by five times.
A total of 61 Democrats have signed onto a House Resolution demanding President Trump import five times the number of foreign refugees that have arrived this Fiscal Year.
The resolution demands Trump set the refugee resettlement at 110,000 refugees a year…
Resettling refugees is a pricey endeavor. These newcomers have no money, no jobs, and often no skills.
They become dependent on the government for everything … big surprise why Democrats love them, right?
Much like in the case of illegal immigration, Democrats exploit refugees for political ends. They hope these newcomers never assimilate to our culture and beliefs—making them susceptible to left-wing propaganda.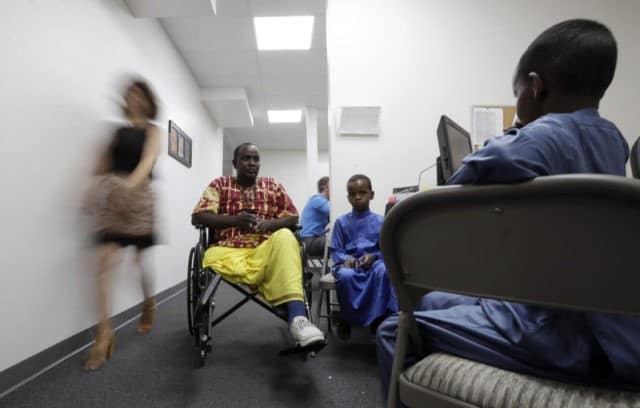 Why wouldn't they vote for the party that's promising them unending free stuff?
Democrats also push for more refugees, because it alters communities' demographics. When a huge influx of new people are dumped into a community, things change quickly and permanently.
Much like when a foreign animal enters an ecosystem, disaster quickly strikes. Just look at Europe!
Bottom line? Democrats want to put refugees ahead of your family, and they'll get away with it if they win more seats in November.
We can't let this happen, my fellow citizens!
Source: Breitbart