Early Midterm Results Revealed – The 2018 Wave Is Confirmed
Here comes the wave.
Our country's future hangs in the balance this November.
For the early part of the year, Democrats were predicting a "blue wave." They were convinced Americans were sick of Trump and would elect Democrats to take him down.
But plenty has changed since the primaries. After the Kavanaugh debacle, some pundits claim a red wave would replace the blue.
Recent talk has made it seem even less certain. Looks like all the polling and "experts" aren't sure what to predict. Maybe the waves would just cancel each other out.
But we already can look at voting patterns, thanks to early ballot requests and returns.
And it's clear that a wave is indeed on its way.
From The Gateway Pundit:
In a series of tweets Larry Schweikart shows that early returns are shockingly strong for Republicans…

Larry explains that he examines ballot requests and ballot returns by party and in 2016 party ID was the single best predictor of a vote according to Pew [Research] and that party switchers in 2016 were 2 to 1 in favor of Democrats voting Republican.

In four states where there are already a large number of ballot requests (Arizona, Florida, Ohio and Iowa) so far Republicans are exceeding 2016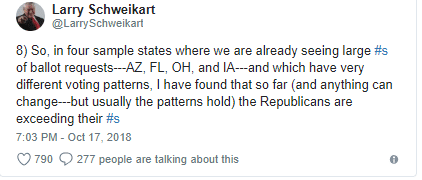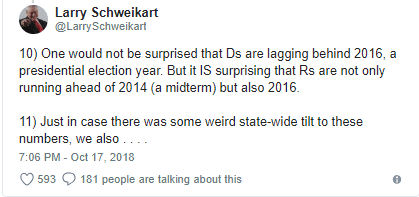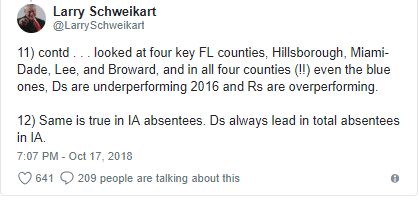 For all the Left's bluster and noise, Republicans are far more motivated to get out and vote.
Early voting is a strong indicator of enthusiasm and interest in an election. And Republicans are exceeding their 2016 interest.
That's not supposed to happen. Everyone is interested in a presidential election. But a midterm?
This has never happened before in the history of our country.
SHARE if you're going to be a part of the RED Wave this November!
Republicans are seeing Trump win, day after day. They are also seeing what great lengths the Democrats will go to destroy our prosperity, safety, and freedom.
Taking no chances, record numbers of Republicans have requested mail-in ballots and have already voted.
But that's only the beginning. Every last patriot must get out and vote. Don't even wait for November. Early voting starts across the country this month. Get your neighbors and friends to vote.
We need more leaders who will back the president's vision. And far fewer who want open borders, higher taxes, and less opportunity.
Sitting out this year and not voting only helps the Democrats. We can't let that happen.
Have you shared this great story to help get out the vote? The mainstream media sure isn't reporting on it.
SHARE this exciting news if you're a part of the Red Wave!
Source: The Gateway Pundit