After Democrats Extend Shutdown, Trump Drops 2020 Wall Anvil
Nancy and Chuck went too far – so Donald's playing his Trump card for 2020.
The left-wing media has tried to put the blame on the shutdown on Trump.
But don't be fooled. Nancy Pelosi and Chuck Schumer are to blame for the longest government shutdown in history.
They are crippling our government, just to block the wall. Yet more and more Americans want the border secured.
Donald Trump hammered them with a series of revealing tweets, showing how this fight is going to have long-term ramifications.
From Twitter: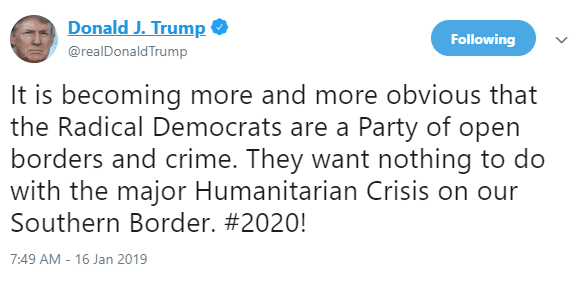 It is becoming more and more obvious that the Radical Democrats are a Party of open borders and crime. They want nothing to do with the major Humanitarian Crisis on our Southern Border. #2020!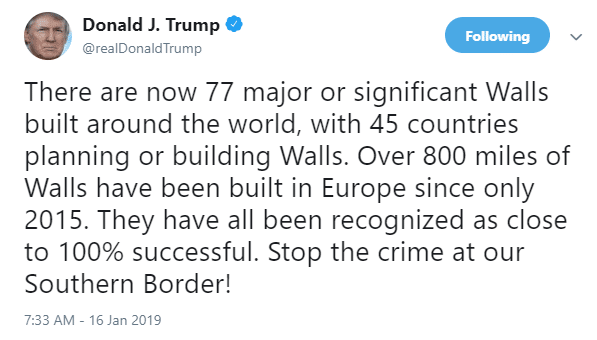 There are now 77 major or significant Walls built around the world, with 45 countries planning or building Walls. Over 800 miles of Walls have been built in Europe since only 2015. They have all been recognized as close to 100% successful. Stop the crime at our Southern Border!
SHARE if you believe walls work!
Democrats refuse to even meet with Republicans. They are forcing this shutdown to go on until the Coast Guard, the Border Patrol, and other federal employees are going without pay.
Not to mention how this is affecting the economy. It will end up costing us billions.
Pelosi even wants to cancel the State of the Union address.
They've done everything in their power to paint themselves as the bad guys. Yet they won't do anything to fix the problem.
They refuse to protect Americans, preferring to help out migrants thousands of miles away.
And it's going to cost them in 2020. Americans will not forget how Nancy began her (final) Speakership – with a terrible, pointless shutdown.
Donald Trump will get his wall – if his supporters continue to support him!
SHARE to tell President Trump you still support him!
Source: Twitter