Homeland Boss Blasts Migrant Caravan WARNING – It's Worse Than Anyone Thinks
America watches as thousands of migrants rush to our border.
This growing caravan refuses to comply with Mexico or other governments. They are pushing through, at all speed, to the American border.
Their intent is to demand entry into our country, even though they are not entitled to come here and refuse to follow our immigration laws.
And by the way, this was entirely caused by the Democrats, who continue to defy the president's goal of immigration reform.
But as the mainstream media claims this tidal wave of migrants is made up of innocent victims, Homeland Security reveals one ugly truth.
From Western Journal:
"Department of Homeland Security Secretary Kirstjen Nielsen said Sunday that her agency will be on the lookout for gangs using the migrant caravans as a cover for criminal purposes.
'While we closely monitor the caravan crisis, we must remain mindful of the transnational criminal organizations and other criminals that prey on the vulnerabilities of those undertaking the irregular migration journey,' Nielsen said in a statement."
Are we really that surprised that drug cartels and terrorists are using this as a means to enter America?
Look at the footage of this horrific crisis: the massive crowd isn't mostly made up of innocent women and children.
No, the bulk of the caravan is comprised of young men, which suggests what Trump and Homeland have been saying all along…
This isn't a group of refugees. This is an invasion.
The caravan is a front for criminals to sneak into the United States. They use women and children to disguise themselves as innocent families.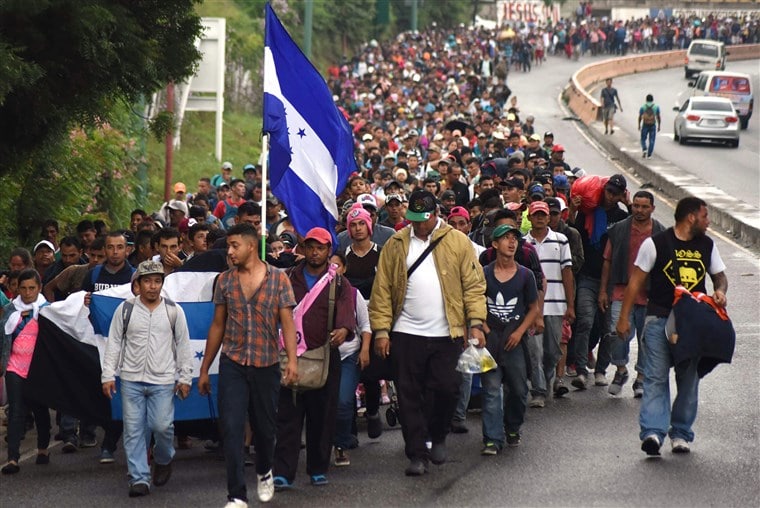 They are demanding that we let them in, claiming they are in danger.
And sadly, the United States' broken immigration laws have to let them in, as long as they say the right things.
This outrageous event will only result in ruin for our country. IF our government lets them in, however.
Don't be fooled: the Democrats will do anything to let these migrants enter the country and stay. They will take jobs from Americans and jeopardize our communities.
And more will come after.
The solution? A RED WAVE in November … it's our only hope right now!
Source: Western Journal