After House Passes $5B For Border Wall – Trump Gives Senate 'Nuclear' Order
Democrats thought Donald was beaten, but he found a way around them.
After Trump promised to veto a funding bill that refused to put money towards the wall, the House got the job done.
They passed a funding bill with the measly $5 billion for the border wall.
But now this bill needs to be passed in the Senate. Normally it would require 60 votes to get a funding bill passed. Trump doesn't have the votes.
So he's urging McConnell to go nuclear.
From Twitter: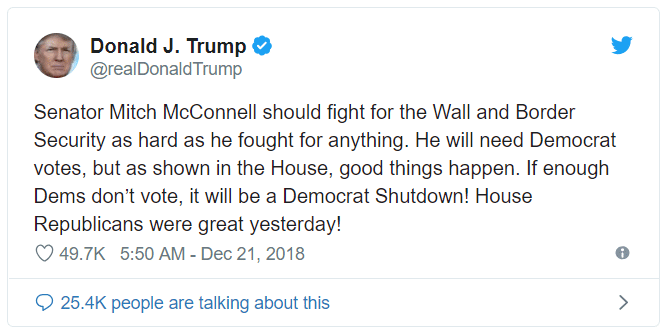 Senator Mitch McConnell should fight for the Wall and Border Security as hard as he fought for anything. He will need Democrat votes, but as shown in the House, good things happen. If enough Dems don't vote, it will be a Democrat Shutdown! House Republicans were great yesterday!
And then Trump gives Mitch McConnell the order he needs to cement his legacy:
Mitch, use the Nuclear Option and get it done! Our Country is counting on you!
SHARE if you demand Congress get the wall built, once and for all!
If McConnell takes the "nuclear" option, he prevents a filibuster and allows the bill to pass with a simple majority vote.
That means Trump would only need 51 votes to get the cash to continue building the wall.
But it still remains to be seen whether McConnell will take such a drastic step to get the funding passed.
In recent years, he's employed this policy to get Trump's judges appointed. It was a policy Democrats put into place to help Obama.
But if he takes this route to pass funding, it will ruffle more than a few feathers on Capitol Hill.
Is McConnell willing to do this? Or is a shutdown looming?
If the small portion of border wall funding doesn't get approved, it is yet another sign that Congress does not care about Americans' concerns.
We've been demanding this wall for over two years. It's about time something happened.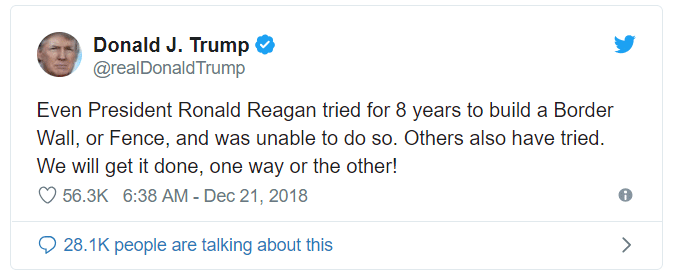 Even President Ronald Reagan tried for 8 years to build a Border Wall, or Fence, and was unable to do so. Others also have tried. We will get it done, one way or the other!
SHARE if you support President Trump building the wall, one way or the other!
Source: The Right Scoop