Illegals Find NEW Loophole To Invade U.S. – HUGE Border Corruption Exposed
Why do we need the southern border wall?
Because we just can't stop illegal immigrants from flooding into the U.S. from Mexico.
They utilize seemingly countless loopholes to get in, and now we've learned that one loophole involves corruption…
Corruption at the highest level, in fact.
Some illegals will attempt to make false asylum claims; others will simply try to find weak spots in our border security.
But there are some who will take advantage of deeply entrenched Mexican corruption.
Via Breitbart:
"Thousands of migrants are still arriving at the U.S.-Mexico border, hoping to be allowed into the country as asylum seekers.
But many are claiming Mexican officials are asking for money to allow them to proceed across bridges that would take them to a U.S. border checkpoint. "
The problem with this is that Mexican officials "are also overseeing a waiting list of migrants seeking entry into the U.S."
This means they have the necessary access and power to accept these bribes and make something happen.
As the Los Angeles Times reported:
"…with many telling of Mexican officials demanding money to let them pass and of watching others, further down the list, cross ahead of them."
Many examples are starting to spread.
For example, Cuban asylum seeker Elvis Gonzalez Rodriguez said that when he arrived at a crossing point last week, a uniformed Mexican immigration official demanded money.
If Rodriguez gave him $1,000, the official would let him into the U.S.
Rodriguez refused but at another border crossing, his backpack containing his passport and cash was stolen.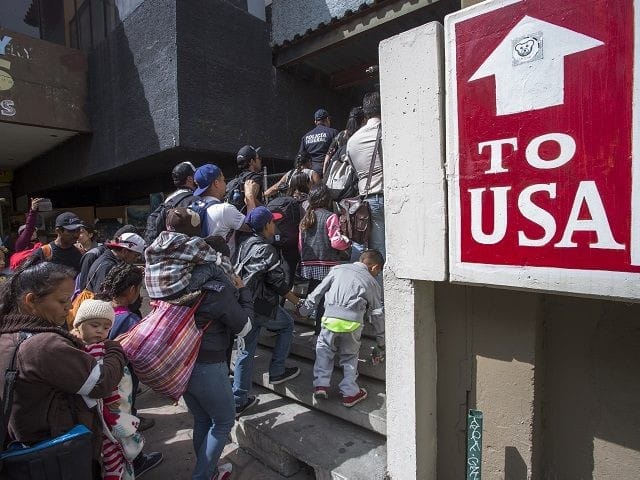 Yup, the entire thing is a mess.
And the problem is, there's really nothing we can do about it, as U.S. border authorities don't cross international boundaries.
Mexico's corruption has become legendary, so it's no surprise that their immigration officials are criminals themselves.
Honestly, how many MORE reasons do we need for a border wall?!
Source: Breitbart