After Criminal Shoots And Kills K9 Dog, One Little Boy Delivers A Surprise Gift To Police
Children are incredible little creatures, aren't they?
Despite being young, they're still capable of saying wonderfully wise, insightful, or mature things.
A police department in Florida learned this truth firsthand after tragedy struck around the holidays:
A Christmas Eve mall shooting in Palm Beach County led to a terrifying chase, which sadly ended in the death of K9 unit Cigo.
The German Shepherd was deeply mourned by the police department, who wrote in his tribute that he gave his life "protecting others" just as our brave men and women in law enforcement do.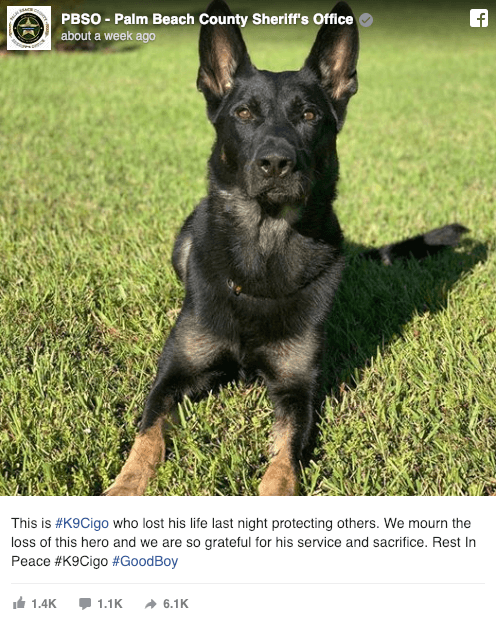 One little boy was heartbroken for Officer Ryan, who was partners with Cigo.
When he heard Ryan had lost his "buddy", the boy decided to write the Deputy a heartbreaking letter.
From Western Journal:
"'Dear Deputy Ryan, I am sorry that your dog got shot … thank you for keeping me safe thank you for your service,' the powerful letter from a boy named Cooper began.
"Cooper had all the questions last night after the local news. He wanted to know why someone would kill his dog when 'he is just trying to protect us,' the boy's mother told the department.
"This morning first thing out of bed (Cooper asked) Mom can I write the Deputy a letter," the boy's parent continued.
The young boy's parents immediately and sent the letter to the Sheriff's Office.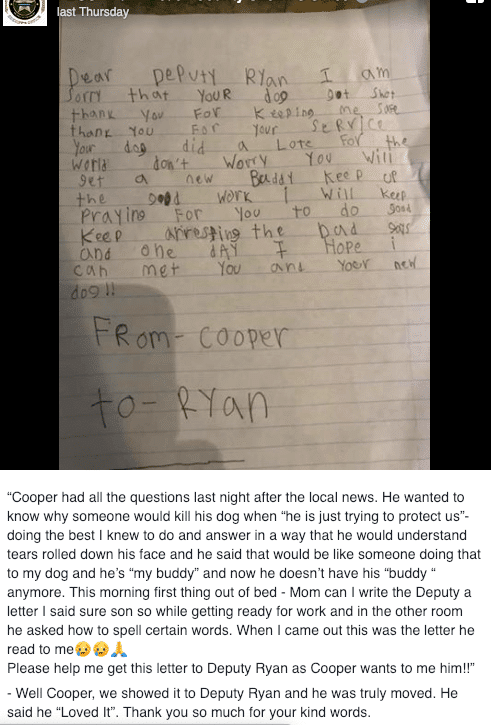 And much to their surprise, the Sheriff's Office quickly sent back a beautiful reply.
"Well Cooper, we showed it to Deputy Ryan and he was truly moved," the sheriff's office posted on Facebook.

"He said he 'Loved It.' Thank you so much for your kind words."
Our police officers give their all to protect us, and Cigo the German Shepherd – Deputy Ryan's "buddy" – was no exception.
It's important for civilians to recognize the sacrifices that law enforcement make, and to show them that they are appreciated.
Even though he's very young, Cooper already understands this, and his gesture should inspire us all to respect our police officers.
The mall where the shooting happened is also honoring Cigo, creating a temporary memorial for him where he lost his life.
And remember: Blue Lives Matter, whether they're human or canine!
Source: Western Journal