After Kavanaugh Accuser Admits She LIED, Trump Drops 4 Brutal Words On Her
We all knew these women were lying, didn't we?
After President Donald Trump nominated Brett Kavanaugh for the Supreme Court, the Democrats played one of their filthy smear tactics:
They decided to discredit Kavanaugh by rounding up a bunch of lying women and accusing Kavanaugh of things he never did.
But there was one big problem with this:
There was zero evidence to support such claims. And now, the U.S. government has declared this to be the case.
Besides, Kavanaugh got in, despite the Left's adolescent attempts to ruin an innocent man's reputation and career.
On top of which, one of his accusers just admitted she flat-out lied … and Trump had to call it exactly what it is.
Via Breitbart:
"President Donald Trump shared his outrage after learning that one of the women accusing Supreme Court Justice Brett Kavanaugh of rape admitted that she fabricated her story.
'It's a damn disgrace,' Trump said, calling it a 'filthy dirty lie.'
The president commented on the news during a rally at the Bozeman, Montana airport on Saturday.
'One of his accusers said it was all a lie, she made up the story.

It was a total lie. It was fake. She lied about the story about rape.'"
The accuser, Judy Munro-Leighton, first told the Senate Judiciary committee that Kavanaugh and a friend raped her more than once.
But she later admitted the accusation was completely false.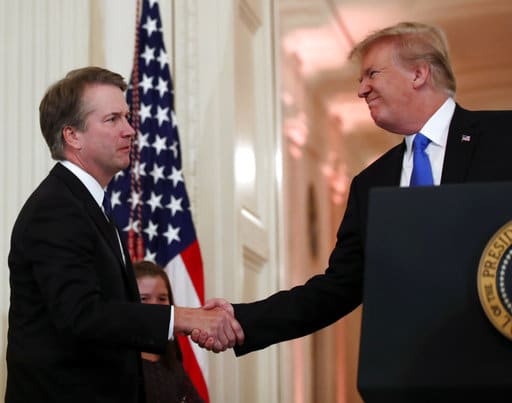 And Trump is understandably furious. He also wants to know when the other liars are going to confess.
"By the way, what about the others? When are they gonna say what happened?" he asked.
The President added that he was happy he stuck with Kavanaugh throughout the entire nasty process, which he called "brutal."
"Supposing because of these lies, he dropped out?

A lot of guys would have, I give him credit also for sticking it out, it was brutal."
Finally, Trump said that what the Democrats did to Kavanaugh "was a disgrace."
And of course, it was exactly that.
This is the sort of disgusting foul play we've come to expect from the Left, and it's a big reason why they cannot be allowed into office.
Liberals blather about "fear-mongering" and various underhanded tactics practiced by conservatives.
But there's only one party responsible for fear-mongering, hate, and hugely divisive maneuvers … and it's the Dirty Democrats.
Source: Breitbart