Kavanaugh Wakes Up To Find A Very Personal Note From Trump – His Statement Says It All
Brett Kavanaugh is facing attacks on all sides. But he just got an emotional boost … from the President himself.
From the moment President Trump nominated Brett Kavanaugh to the Supreme Court, the left rioted.
Some progressive groups protested, and before even knowing the man's name!
We knew Democrats would stoop to new levels to oppose this historic appointment, though. It's what they do.
Democrats have disgraced our government and Constitution with their shocking antics.
Now, they have produced a questionable accuser, in the hopes of tarnishing Kavanaugh's record, and undermining Donald Trump's pick.
But despite the vile attacks from the left, President Trump is standing up for his nominee.
From IJR:
"While some on the left might be pouncing on Judge Brett Kavanaugh over allegations of sexual assault, President Donald Trump is standing firmly by his nominee's side…
Trump responded to questions from the press, telling them he feels 'badly' for Judge Kavanaugh because of the sudden allegations…"
.@POTUS on Kavanaugh controversy: "Hopefully the woman will come forward [and] state her case. He will state his case before representatives of the U.S. Senate. And then they will vote. They will look at his career. They will look at what she had to say from 36 years ago." pic.twitter.com/7coWkO5yx7

— Fox News (@FoxNews) September 18, 2018
"[Judge Kavanaugh] is an incredible individual, great intellect, great judge, impeccable history, in every way.

In every way. I feel so badly for him that he's going through this, to be honest with you.

This is not a man that deserves this."
Here's the biggest question: why should Kavanaugh be disqualified over something that may or may not have happened 35 years ago?
If we held everyone in government to that standard, there'd be no Democrats left!
So many Democrats have fallen in the wake of the #MeToo trend. All due to horrible actions they committed, while adults in positions of influence. And each allegation was provable.
Yet now Democrats are trying to take Kavanaugh down over a flimsy story from decades ago; something that has nothing to do with who he is today (given the fact that the story isn't even true).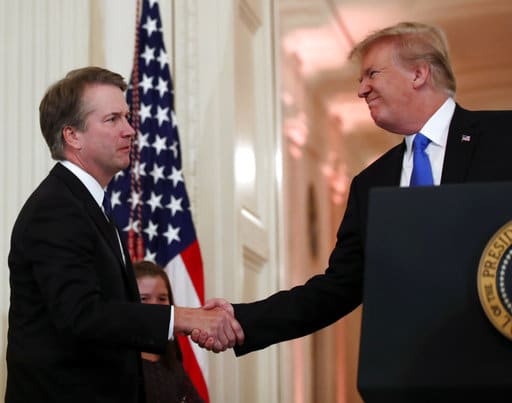 And now, Donald Trump is standing behind Kavanaugh.
He isn't one to back someone half-heartedly; as a president and businessman, he selects only the best. That should be enough for the American people.
In the end, Brett Kavanaugh and Trump will be vindicated. His accuser is already backing away from testifying, and even Feinstein is losing her grit.
This entire episode will only blow up in the Democrats' faces … as it rightly should.
Do you also stand in support of Kavanaugh? Share if you do!
Source: IJR