A Week After Kavanaugh Hearing, Trump's Approval Rating Takes A Left Turn
The country has been shocked by the events that have unfolded over the last few weeks.
Accusations made against Brett Kavanaugh, Supreme Court nominee, have many people speaking out.
Feminists and other women's rights advocates are outraged. They demand Kavanaugh's head on a platter.
Many others, however, are shocked that the media and Democrats would push wild allegations without a shred of proof.
Through it all, President Trump has stood firmly by his nominee. He has continued to endorse him, condemning the Democrats and their attacks.
Now the verdict is in: this is what Americans feel about Trump after the scandal.
From Rasmussen Reports:
The Rasmussen Reports daily Presidential Tracking Poll for Thursday shows that 50% of Likely U.S. Voters approve of President Trump's job performance. Forty-nine percent (49%) disapprove…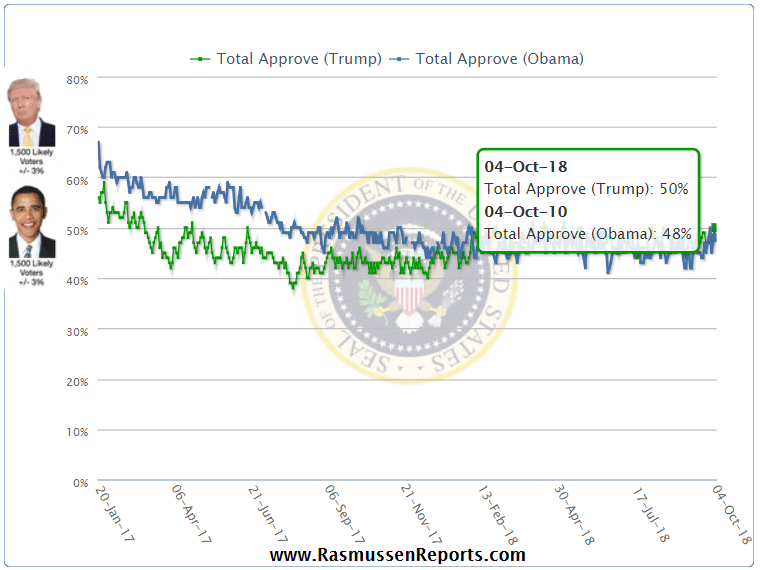 The FBI early this morning handed the Senate the results of its latest background investigation into Christine Ford's sexual assault allegations against U.S. Supreme Court nominee Brett Kavanaugh…

"This confirmation process has become a national disgrace," an angry Kavanaugh told the Senate Judiciary Committee late last week. "The Constitution gives the Senate an important role in the confirmation process, but you have replaced advise and consent with search and destroy." Most voters think he's right. Even Democrats are conflicted.
The disgraceful treatment of Kavanaugh during this wild season has shocked and disgusted millions of Americans.
While some left-wing advocates have ruled him guilty without any evidence, many more see what's really going on.
SHARE if you support Judge Kavanaugh for Supreme Court!
The Democrats are waging an unjust war against a good man. They are using politics to destroy a father, husband, and respected judge. (Not to mention exploit a clearly unwell woman).
This has lit a fire under the already passionate Trump supporters. They are seeing what vile depths the left will go, in order to undermine the president's agenda.
Now more than ever, patriots must take a stand to support their president. We need more conservatives in office who will help him make America great again.
And every last Democrat who lies, cheats, and steals must be given their walking papers.
Kavanaugh must be confirmed. Democrats must suffer defeats for their evil.
SHARE if you support President Trump and Judge Kavanaugh!
Source: Rasmussen Reports