Kid Rock Booted For Calling Joy Behar A 'Bi***' – His Bad-Ass Response Stuns America
Liberals are all the same, aren't they?
They can dish it out, but they can't take it.
"The View" host Joy Behar frequently calls Republicans, conservatives, and just about any pro-American individual all sorts of disgusting names.
She also acts totally disrespectfully toward anyone who doesn't happen to agree with the show's ultra-liberal beliefs.
And yet, Behar has the nerve to act all offended and put-upon when she gets called a certain name … a really fitting name, too.
Unfortunately, the man who said it was punished for his comments, but the good news is, he's not backing down.
Via Breitbart:
"Detroit rocker Kid Rock has been removed from his position as grand marshal of the Nashville Christmas parade after calling Joy Behar a 'bitch' on Fox News Friday.
During an appearance on Fox & Friends, Kid Rock said:
"We can disagree and still be cordial with one another and just talk about things without going for each other's throats and protesting everything.

God forbid you say something a little bit wrong you're racist, homophobic, Islamophobic.

People need to calm down, a get a little less politically correct, and, I would say, love everybody.

Except, I'd say screw that Joy Behar bitch, everybody but that,' the 47-year-old said."
Fox News quickly apologized for the comments, and though Kid Rock confirmed he was just joking, he still got booted from the parade.
But this didn't stop him from doubling down on his beliefs.
In a statement to News Channel 5, the patriotic musician said: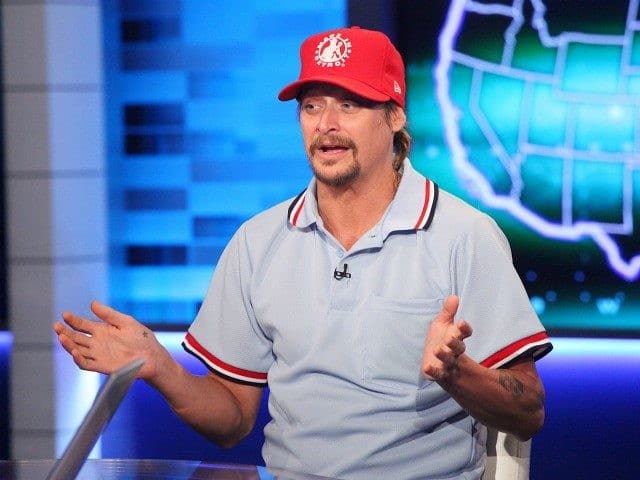 "Behar has been an outspoken critic of President Donald Trump and when Myself, Sarah Palin and Ted Nugent visited The White House last year…
…Behar called it 'the saddest day in in the history of the White House since the British burned it to the ground in 1814."
That's exactly the sort of smug, insulting behavior we've come to expect from Behar.
And as for Kid Rock's expressed sentiment, he clarified:
"Today I said 'Screw that Joy Behar bitch' Mess with the bull, you get the horns. End of story.

I apologized for cursing on live tv, I will not for my sentiment nor do I expect an apology from her or anyone else who has choice words for me or doesn't like me.

God Bless America."
Perfect!
More than anything, America-hating liberals hate people who won't bow to their fascist, oppressive regime.
Freedom of speech DOES apply to everyone, regardless of what these Left-wing bullies think or say!
Source: Breitbart