After Libs Trash Melania's Red Christmas Trees, She Unloads The PERFECT Reply
The mainstream media is filled with Christmas grinches, and none of them can seem to find any joy in the beauty of the season.
It's sad, isn't it?
The War on Christmas is nothing new, but the liberal media seems to have a particular hatred of the First Lady's White House Christmas decorations.
Last year the media eviscerated Melania's beautiful winter designs, calling them a "horror show nightmare".
This year, they're calling her decorations, "creepy," "Christmas from Hell," and "spooky."
Their main issue seems to be with Melania's hallway filled with red Christmas trees, which MSNBC said looked like a scene from 'The Shining."
The liberal website Slate called them "red Christmas trees of death."
But the true meaning behind the trees is something America-hating liberals will never understand, and proves that our First Lady takes great care to bring importance to everything she touches.
From Western Journal:
"The red trees relate to this year's theme, 'American Treasures' and symbolize patriotism, the heart of America.

WhiteHouse.gov says the color red, (as seen on the shield at the forefront of the bald eagle) on the presidential seal, goes back to the founding of America.
Time.com reports that 'Heraldic devices such as seals have specific meanings for each element and color, and the U.S. Seal was no exception.'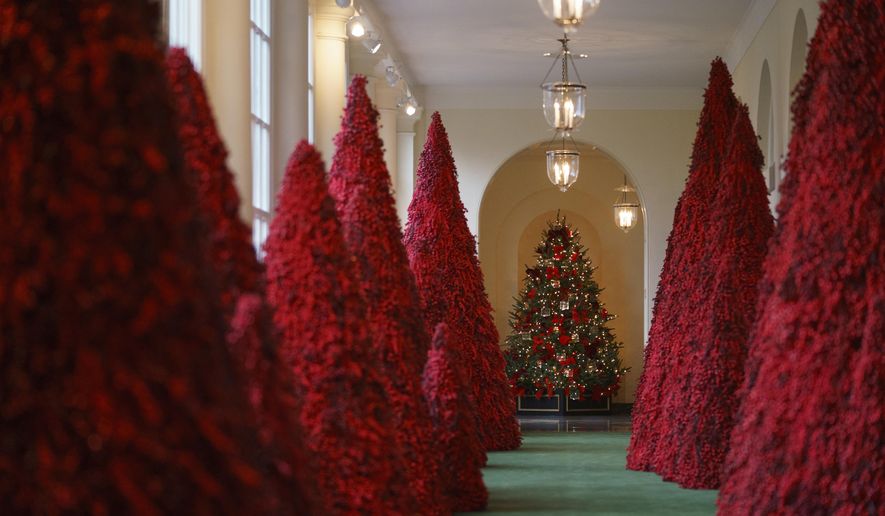 When the seal was presented to Congress, the Secretary of the Continental Congress said:
'The colors are those used in the flag of the United States of America. White signifies purity and innocence.

Red, hardiness & valour, and Blue… signifies vigilance, perseverance & justice.'"
Melania's red Christmas trees, as stated on the White House website, are a "symbol of valor and bravery."
There you have it.
The First Lady's red Christmas trees are a testament to the greatness of what our country represents.
Melania further commented on her decorating choice, saying she thinks the trees, "look fantastic", and are "even more beautiful" in person.
"We are in 21st century and everybody has a different taste. I think they look fantastic," says @FLOTUS, responding to criticism of red Christmas trees at the @WhiteHouse. "In real life, they look even more beautiful." pic.twitter.com/Z68wXWcy9o

— Steve Herman (@W7VOA) November 28, 2018
Liberals can insult our First Lady as much as they want, but their petty commentary reveals their underlying jealousy and bias.
Michelle Obama's Christmas decorations received virtually no hateful commentary, remember?
And her White House Christmas Tree featured ornaments depicting communist dictator Mao Zedong as well as the drag queen known as Hedda Lettuce!
But under the Trumps, the People's House is grand once more.
And thank God for that!
Source: Western Journal