WATCH: Marine Vet Unveils His AMAZING Christmas Gift For Fallen Heroes – On Live TV!
You know what's incredible?
The unwavering, unfailing patriotism of those who have served in our country's armed forces.
Perhaps it's because military veterans fought for something they truly believed in…
82-year-old Marine veteran Ron Bates is one such proud individual, and he wanted to honor his fellow vets in a touching Christmas tribute.
The result was SO good, that it got unveiled on "Fox & Friends"!
Via IJR:
"The 82-year-old lit up his front yard with a special Christmas display to honor military members, past and present, so he could thank them for their service.

His display includes headstones from all of the American wars, as well as a purple heart and giant 'thank you' sign.

Of course, he didn't forget the reason for the season and included a nativity scene, as well.
It's both ambitious and inventive; two things you'd expect from a Marine veteran!
And he found a way to embrace both the memory of fallen heroes and the Christmas spirit, too.
Bates explained his theme to the "Fox & Friends" news team as follows:
"People thank me for my service and I had to come out with a way to thank people back.

I live close to an airbase and I have pilots fly over the house daily and that's the reason for the sign on the house: thank you."
Bates said he put up "head markers for all of the major wars" since the Revolutionary War, so he's really thanking heroes throughout our nation's history.
And for good measure, he added:
"It's not only the troops that serve.

It's the families and friends those that have fallen or given some."
This is someone who is proud of his country, proud of his comrades, and proud of the spirit of America.
It's sad that so many today don't seem to have any pride whatsoever…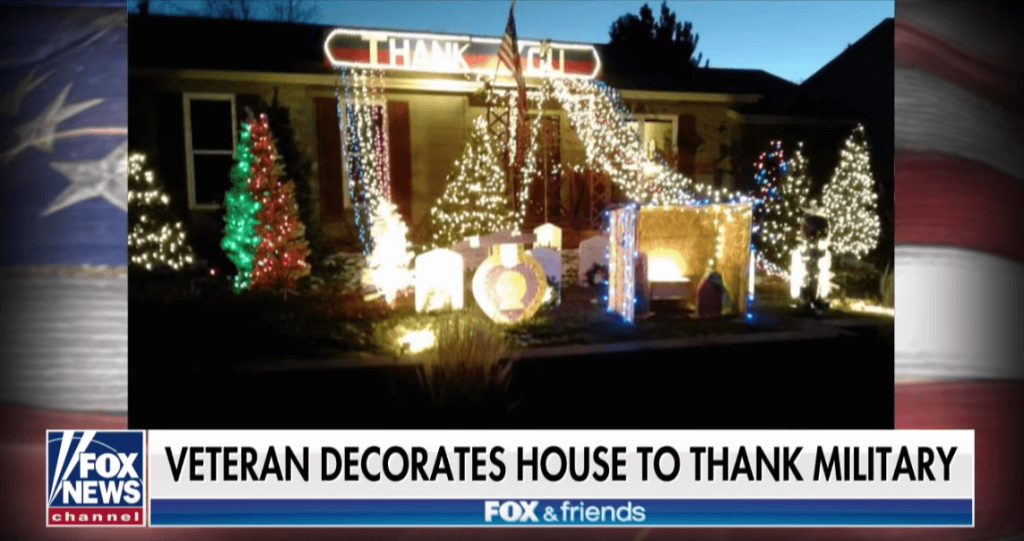 Maybe if they stopped being so hateful, they wouldn't be so unhappy all the time.
The good news, however, is that everyone loves Bates' display, and now he plans to make it an annual tradition!
So there IS some pride and patriotism left in the good ol' U S of A.
Source: IJR