Michelle Spills HUGE Secret About Barack – It DESTROYS Obama's 'Perfect' Image
Barack and Michelle Obama were always portrayed as the ideal American couple.
But was everything as rosy as it seemed?
Well, new revelations from Michelle Obama's book Becoming are casting doubt on the former First Couple's relationship.
There were definitely moments in Obama's presidency where the relationship seemed strained.
So strained, in fact, that Michelle had doubts about the marriage's stability…
Back in 2015, the two were filming interviews in LA just miles apart. But the Obama's took separate flights to California, with Barack flying in Air Force One and Michelle flying private.
The couple also traveled separately while flying to Hawaii and Martha's Vineyard for family vacations.
But these incidents were always downplayed or went unreported altogether to maintain their perfect image.
Now, Michelle is admitting that the two have had a rocky relationship.
From The Hill:
"They've been married more than two decades, but Michelle Obama is revealing that at times she's questioned whether she wanted to stay with former President Obama.
'Because we're role models, it's important for us to be honest and say, if you're in a marriage and there are times you want to leave, that's normal — because I felt that way'…
Obama says in an interview with People published Monday, while recalling the couple's visits with a marriage counselor.
Obama revealed while promoting her book last week that she and the 57-year-old ex-commander in chief have been to marriage counseling before to 'talk out our differences.'"
Well, THAT'S an eye-opener, isn't it?
Michelle thought about leaving her husband more than once. And you know, it makes sense when you understand the former president's past…
For example, Obama almost exclusively dated white women before settling with Michelle. He even proposed to his half-Japanese half-Dutch girlfriend Shiela Miyoshi Jager.
But after he decided to get involved in politics, Obama began to think that marrying her would hurt his credibility as an African-American politician.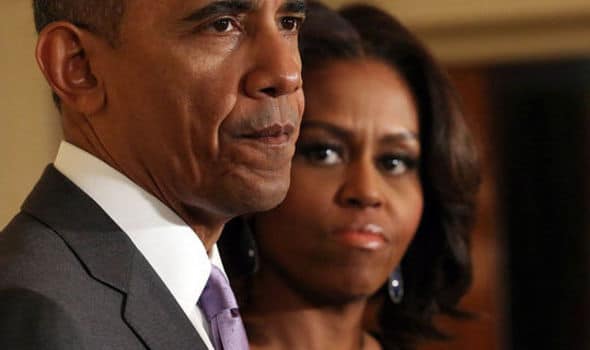 According to a biographer, Obama believed he had a "calling" to be president and gained "a heightened awareness that to pursue it he had to fully identify as African American."
It's always been speculated that Obama married Michelle to help solidify his status in the African-American community in order to advance his political career
Now with Michelle's latest admission, it's even more apparent that their marriage might've been for show.
Would Barack have been President without an African-American woman on his arm?
Interesting question, isn't it…?
Source: The Hill