'Undocumenteds' Report Rocks Washington—One Sky-High Statistic Proves We Need The Wall
One eye-opening fact proves we need Trump's border wall. Now.
It's going to take a while to fix our broken immigration system.
In the meantime, we need the southern border wall. We need it very, very badly.
And a recent report proves that without it, we are being completely overrun. Not by legal migrants, no – by illegal immigrants.
In the fiscal year that ended on September 30, 2017, 94,285 people illegal crossed our southwest border from Mexico, claiming to be a "family unit."
That's right. Nearly a hundred thousand people illegally entered our country last year.
And do you know how many of those people were deported…?
1,500. About 1.5 percent of the total.
This means that just last year, over 98% of illegal aliens claiming to be "family units" came here unlawfully, and are still here.
DHS spokeswoman Katie Waldman said a legal "loophole" that mandate families can't be held more than 20 days is a problem.
This means they're just being released and not prosecuted. Added Waldman:
"Because of restrictive judicial orders and catch and release loopholes that leave us with no recourse for removal, we are seeing a record number of family units apprehended at the southwest border.
In fact, of the nearly 100,000 family units from noncontiguous such as El Salvador, Guatemala, and Honduras apprehended or encountered at the border in Fiscal 2017, only 1.4 percent of them had been removed by the third quarter of Fiscal Year 2018.
Secretary [Kirstjen] Nielsen has been urging Congress to act and close these loopholes that pull family units to the United States."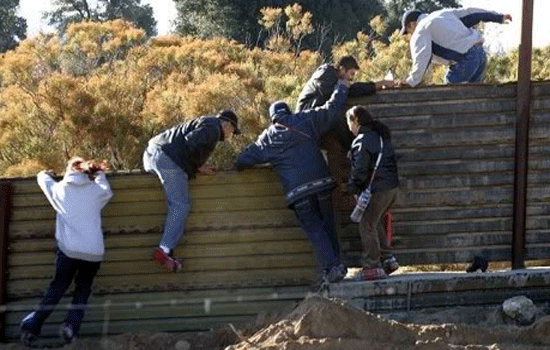 Well, somebody better do something. Fast.
The rate of deportation is about the same for "unaccompanied alien children," by the way, and most of those kids come with smugglers.
These smugglers take the children across the border, then just let American authorities apprehend them, with the knowledge that nothing will happen.
They're taking advantage of our broken system every single day, and every single day hundreds upon hundreds of illegals flood into our country.
Yes, we need the wall.
We need President Donald Trump to do what he promised, because this critically flawed immigration system of ours will take years to repair.
It's great to see certain sections of that new and improved wall go up, but we need more … we need the whole damn thing.
After reading this, don't you agree?
Source: Washington Examiner