Caravan Migrants Demand Asylum – But Trump Stops Them Dead In Their Tracks!
As we speak, thousands of migrants are rushing toward our southern border.
Even though we have strict guidelines for legal immigration, these migrants think they can enter the country, without following a single rule.
That's because they've been coached by liberal activists on what to say, and they plan to exploit our asylum program.
Our country welcomes migrants for asylum, under very specific conditions … and most of these border jumpers don't qualify.
They're going to find out the hard way, it seems.
From Breitbart:
"El Salvador nationals traveling with an at least 7,000-strong migrant caravan which is headed to the United States are detailing crime and poverty as their reasons for fleeing the country, both of which are ineligible asylum claims…
Thanks to Attorney General Jeff Sessions, former President Obama's loosening of 'credible fear' claims have been tightened to exclude foreign nationals fleeing gang violence, crime and domestic abuse."
Allowing such claims by foreign nationals would give the entire population of Central America — about 32 million people — the right to migrate to the U.S. as the region is rife with gang violence and crime.
Refugees are welcomed into the U.S. IF they are fleeing a war-torn country.
And even then, our government sets limits on how many can enter a year.
The United States—like every other country—has limited resources and cannot welcome the whole world.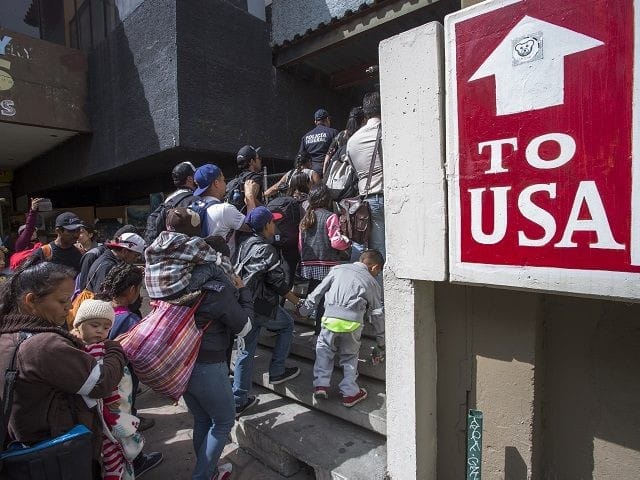 Obama, however, tried to bend the rules to let in more illegals. All a person had to say to get in was claim they were "afraid" of being hurt by criminals.
But criminals are everywhere, in every country. So, Obama gave every illegal a free pass to enter our country without following our laws.
But thanks to Trump and Sessions, those rules are gone: only specific refugees can enter the U.S. and benefit from asylum.
These migrants from South America are simply requesting free benefits from the United States. They're not fleeing war, and some among them are criminals themselves.
We have to protect ourselves, right?!
Source: Breitbart