After Mueller Hits Trump Team, Donald Drops Triple-Anvil On Him
Trump's done playing games – Mueller never knew what hit him.
For over two years, Americans have had to put up with Mueller's bogus Russian "investigation." After millions of tax dollars spent, the special investigator is ready to release his report.
The media and Democrats are hoping for a bombshell that will destroy the Trump administration, while conservatives are eager for this fiasco to be put to bed.
Mueller's latest claims make the investigator look like he's in deep trouble, and Trump clearly knows it.
From Fox News:
…the Mueller team claimed that former Trump campaign chairman Paul Manafort violated his plea deal by lying to the FBI and Mueller's office on a "variety of subject matters," amid reports the cooperation agreement was not panning out how prosecutors had hoped…

The complications only served to stoke President Trump's persistent allegations that the investigation is being unfairly run.
It looks like Mueller's scheme is unraveling. If he is making claims like this against Manafort, it must be because he doesn't have anything to show for his 2 year witch hunt.
And Trump isn't taking Mueller's games lying down. In three explosive tweets, he tears apart Mueller's credibility in amazing fashion:
The Phony Witch Hunt continues, but Mueller and his gang of Angry Dems are only looking at one side, not the other. Wait until it comes out how horribly & viciously they are treating people, ruining lives for them refusing to lie. Mueller is a conflicted prosecutor gone rogue….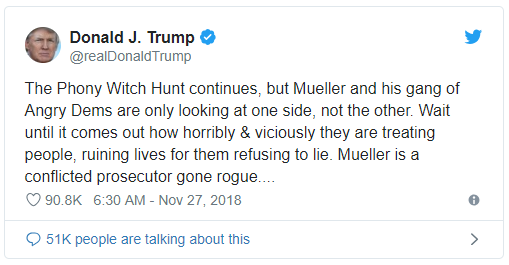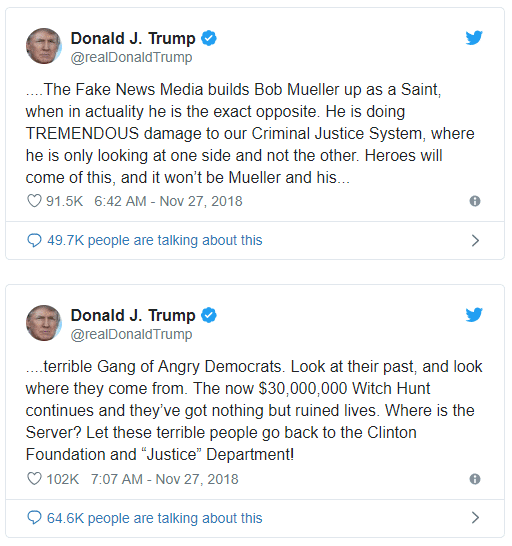 SHARE if you're ready to see Trump win and Mueller's witch hunt fall apart!
Trump's words will resonate in the coming days and weeks. Mueller has abused his limited authority to punish people associated with Donald Trump.
The Democrats have tried to exploit the Russian probe as a means of hurting the administration. But Trump is spotless. We know he never colluded with Russia.
So, the Gang of Angry Democrats, with Mueller, are targeting people associated with Trump. They are playing a petty and vengeful game. All because they still can't get over Election Day 2016.
This witch hunt is looking to come to a loud and vocal end. But it won't be Trump and his people who are embarrassed and exposed.
Instead, Mueller and the corrupt Democrats who tried to abuse their power will be in the hot seat.
SHARE if you're ready to see Trump win and Mueller's witch hunt fall apart!
Source: Fox News