Muslim Democrats Attack Mike Pence's Faith – Their Stunning Hypocrisy Is Exposed
If liberals didn't have double standards, they would have no standards at all.
Nowhere is this more evident than in their views on religious freedom.
To the Democrats, some religions are worth respecting while others simply aren't.
And a politician's recent tweet lays the Left's hypocrisy bare…
The media barely covered this disgusting comment when it was first tweeted a few weeks ago, but it's yet another example of the Left's so-called "tolerance."
It's NEVER okay to mock Muslims, but it's obviously okay to mock Christians.
From CNS News:
"One of the first two Muslim women elected to the U.S. Congress took a snide dig on Twitter at Vice President Pence…

…for sitting with eyes closed during a heated Oval Office meeting, posting a photo with the caption, "Jesus take the wheel!"

…and the other incoming Muslim congresswoman applauded the insult.

The second Muslim woman elected to the House, Palestinian-American Congresswoman-elect Rashida Tlaib, 'liked' Omar's Pence tweet."
Jesus take the wheel! #BorderWall pic.twitter.com/aEPle6HFF1

— Ilhan Omar (@IlhanMN) December 11, 2018
A politician attacking another politician over their faith is outrageous, and should NEVER happen.
Vice President Pence has never hidden his deep religious convictions, but he's also never personally attacked anyone over a difference in religion.
Can you imagine if a Christian politician made fun of a Muslim politician this way? The media would have a total meltdown!
But this type of prejudice against religious Christians is common on the far Left.
Muslims and leftists both regard Christianity as an enemy, because American society was built upon Christian values.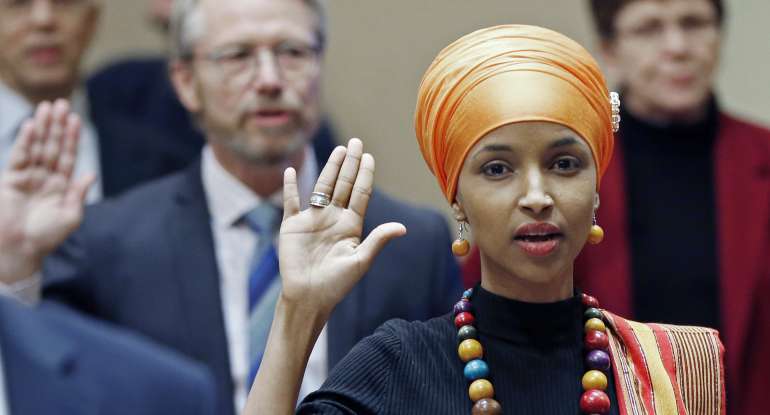 And if there's one thing Muslims and leftists agree on, it's that they want to recreate American society in their image.
This is why they delight in mocking the very faith this country was built upon, just as Obama did when he claimed, "We do not consider ourselves a Christian nation."
But it's an indisputable fact of history that the overwhelming population of people who were involved in the drafting of the Constitution came out of the tradition of Western Christian civilization.
When the Left attacks these values, they're not just attacking Christianity. They're attacking the Constitution.
Wouldn't you agree?
Source: CNS News