Nikki Haley Drops $600M Announcement On United Nations: "No More"
In her last act as UN Ambassador, Nikki delivered Trump's expensive wake-up call.
Nikki Haley was a decisive and powerful U.N. ambassador. Despite facing fierce opposition, she represented our nation proudly.
She's moving on, but her impact will be felt for years to come. That includes withdrawing America from the many corrupt agencies within the U.N.
As she leaves her post, she issues one last stinging rebuke to the most corrupt group in the org.
From Fox News:
Nikki Haley, the exiting U.S. ambassador to the United Nations, issued a harsh assessment of UNESCO on Tuesday, one day after the United States and Israel officially quit the U.N. agency, alleging an anti-Israel bias.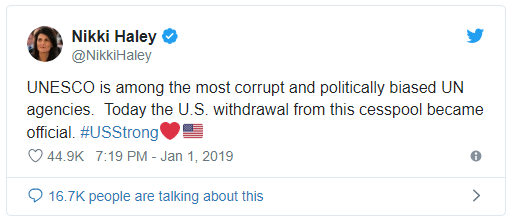 "UNESCO is among the most corrupt and politically biased UN agencies," Haley wrote in a Twitter message. "Today the U.S. withdrawal from this cesspool became official. #USStrong"
…Officials estimate that the U.S. — which accounted for around 22 percent of the total budget — has accrued $600 million in unpaid dues, which was one of the reasons for President Trump's decision to withdraw. Israel owes an estimated $10 million.
Oh? We "owe" UNESCO $600 million in unpaid dues? Well, let me get my checkbook!
These scum bags have the audacity to claim we owe them anything. Even as they reject our concerns and attack our ally Israel.
SHARE to thank Nikki Haley for putting the United Nations in their place!
President Trump has challenged the U.N.'s role in the world often. He questions why it should even exist.
It's clear the group is run by corrupt, greedy globalists. They aren't interested in world peace, but gobbling up as much power and money they can get.
They attack Israel's right to exist and do more to divide the world than unite it. They can more about "global warming" than they do starving nations.
Most Americans will agree the U.N. is a big waste of taxpayer dollars. At least one of their bloated, crooked, and evil groups isn't getting our cash anymore.
Now, perhaps we should pull out entirely.
SHARE to thank Nikki Haley for standing up for the United States!
Source: Fox News