Susan Rice Slams Trump With TREASONOUS Insult…But Look What SHE'S Guilty Of!
The Democrats' constant attacks against President Trump are really getting old, aren't they?
Liberals smugly say that they dislike Trump because they're morally superior.
But in reality, they're just jealous of him because he is capable of doing everything they can't, and America loves it.
From jumpstarting the economy to defeating ISIS, the President has undone much of the Obama administration's damage in just a few short years.
And of course, one of Obama's former staffers is not happy about it.
In fact, she decided to fire off an insane accusation that proves the Left doesn't have any boundaries when it comes to slamming our leader.
From Breitbart:
"Former National Security Advisor Susan Rice published an op-ed Sunday in the New York Times…

…in which she declares that President Donald Trump 'does more to undermine American national security than any foreign adversary.'
Rice wrote that Trump's decision to withdraw from Syria — a conflict that the Obama administration allowed to drag on even after dictator Bashar al-Assad crossed Obama's "red line" and gassed his own people…
…represented '[c]utting and running,' and she said that the departure of Secretary of Defense left the administration unstable."
Susan Rice has no right to talk about our President OR our national security, as she was a complete failure in her former role and was forced to resign in disgrace.
In 2012, Rice repeatedly lied about the real motivation behind the attack on our consulate in Benghazi.
The former National Security Advisor had the nerve to go on all the morning talk shows and claim the Benghazi attack was inspired by a YouTube video.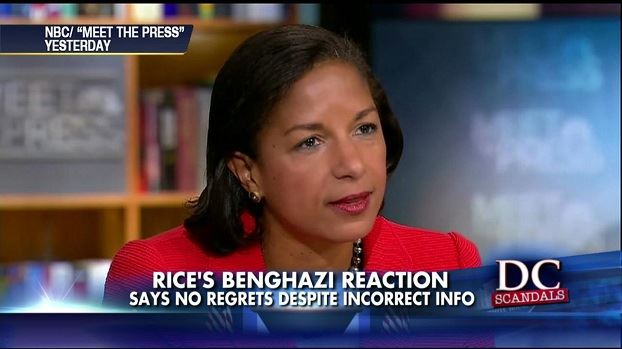 However, we soon learned that she and the entire intelligence committee knew an attack was coming.
After Rice's failings, she should be disgraced into silence.
Rice's op-ed is just an attempt to save her own hide. Like Obama and Comey, Rice is projecting her own criminality onto our President, who has done nothing wrong.
Every time the Left goes after our President in this way, they confirm their own guilt as if they were shouting it over a megaphone.
Trump isn't a threat to our national security: he's a threat to the Democrats and their globalist agenda!
Source: Breitbart