Obama's Buddy Launches A $10B Plan To Bankrupt Barack's Hometown
Talk about irony – One of Obama's best friends is facing a $28 billion mountain of debt, and his plan to fix it could destroy the entire city.
An already bankrupt city is about to go even more broke.
And why?
Because whenever Democrats gain control of a city they tax its residents to death, and when the city starts to fail, they go crying to the federal government for a bailout.
If these cities stopped getting American taxpayers to cover for their inept governance, more voters would start opting for fiscally responsible Republicans.
But as it stands, too many major U.S. cities keep electing Democrats … and now they're facing the consequences for their poor decisions.
Example: One Democrat-dominated city is scrambling for a solution to its $28 billion pension debt, but the solution will likely put the city in an unrecoverable position.
It's Barack Obama's hometown: Chicago.
From Breitbart:
"As the pension for Chicago's municipal workers, including its police and firefighters, continues to spiral out of control, Democrat Mayor and former Barack Obama Chief of Staff Rahm Emanuel is launching a scheme to float an additional $10 billion taxable bond offering, according to Fox Business Network.
Even as Chicago's bonds have already been rated at junk status, Mayor Emanuel imagines that the new round of bonds could be sold to willing buyers and will earn enough to surpass the city's interest obligations on the debt.
Of course, if the money is borrowed against the bond and the bond does not sell well, it will mean billions more red ink added to the city's ledgers.
Worse, Chicago should already be forewarned about the ineffectuality of the idea since the scheme has failed for cities such as Detroit, Stockton, and San Bernardino."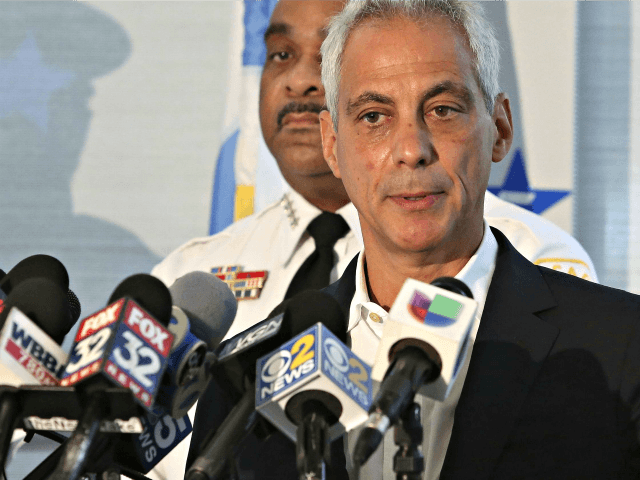 So, Chicago plans to borrow more to dig itself out of a hole created by excessive borrowing. What could go wrong?
With ultra-liberal mayor Rahm Emanuel at the helm … absolutely everything.
Emanuel caused all of this financial strife when he decided to pour the city's funds into building Obama's library and 50 miles of bike lanes.
These causes apparently deserve more money than mundane commitments like pensions or stopping the rampant gun crime plaguing Chicago's South Side.
When will liberals learn that a vote for a Democrat is a vote for crippling your local economy?
Some liberals seem to finally be waking up to this fact, and that's why many are walking away and voting Republican.
It may be too late for Chicago to recover, but it's not too late for the rest of the country…
Source: Breitbart