Secret Oval Office Plot Leaked – Deep State BOMBSHELL To Destroy Trump Exposed
Yes, the Deep State agents are real.
Exposed by various groups, these people have been seeking to overthrow our government from the inside.
These moles use their positions to wreak havoc, and that includes sabotaging President Donald Trump.
Sometimes, these betrayers even use government funds to help radical, left-wing groups, which is absolutely unacceptable.
But the latest bombshell reveals a top official was planning to record President Trump.
His goal? To use secretly recorded tapes to remove him from office.
From Breitbart:
"A new report claims Deputy Attorney General Rod Rosenstein offered to secretly tape President Donald Trump inside the Oval Office and wanted to 'recruit' top administration officials to oust the president with a vote among Cabinet leaders…
In a spring 2017 meeting with fellow Justice Department and FBI officials, Rosenstein reportedly made the explosive suggestion of recording the president…
Rosenstein, a mere two weeks into his duties overseeing the Russia investigation, began mulling plans to record the president after FBI Director James Comey was fired in May, according to the report."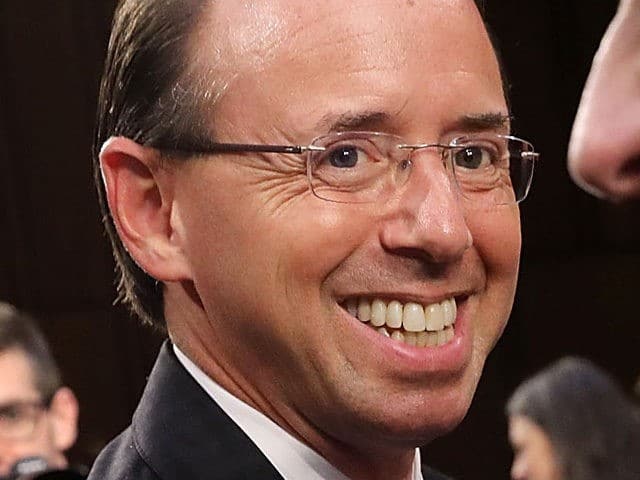 Rosenstein himself denies the charges, though some accounts allege he did talk about recording the president. He claims it was all a joke.
But given the current climate, we cannot be sure. We know for a fact that former Director James Comey worked to undermine the president, right?
And while Comey and other corrupt officials were fired, many others—Obama loyalists—still linger in government.
Could it be that Rosenstein is the one "slow-walking" the president's initiatives? Could Rosenstein be aiding the Russian witch hunt, to undermine the White House?
This latest story makes it seem he had plans to remove the president, and that alone is scary enough.
One thing is certain, however: the swamp is still deep. Insiders will do whatever it takes to undermine the MAGA movement.
Share this story so your friends know the truth about what's going on in Washington!
Source: Breitbart