Sarah Palin Drops A Scorching TRUTH BOMB On Joy Behar's Head – BOOM!
Once again, we see the left's hypocrisy on full display.
Recently, musician Kid Rock appeared on TV criticizing political correctness, and during the interview, he called out The View's Joy Behar, calling her the b-word.
Behar and her cronies in the liberal media were outraged. Behar even choked up some tears at the oh-so-mean comment.
But America wasn't buying it. And neither was Sarah Palin.
Palin quickly took to Facebook to call out Behar's own brand of hypocrisy:
She gave Behar nothing but  the brutal truth, reminding her of all the horrible things she's said about women, including Palin's own daughter.
From Breitbart:
"Former Alaska Gov. Sarah Palin scoffed at ABC Host Joy Behar's 'crocodile tears' and told her to "suck it up, cupcake'…
…while citing a Breitbart News article reporting on the removal of Kid Rock as grand marshal of the Nashville Christmas Parade…
Palin was incredulous at Behar's mock outrage over being called a bitch especially considering all the names she has called others."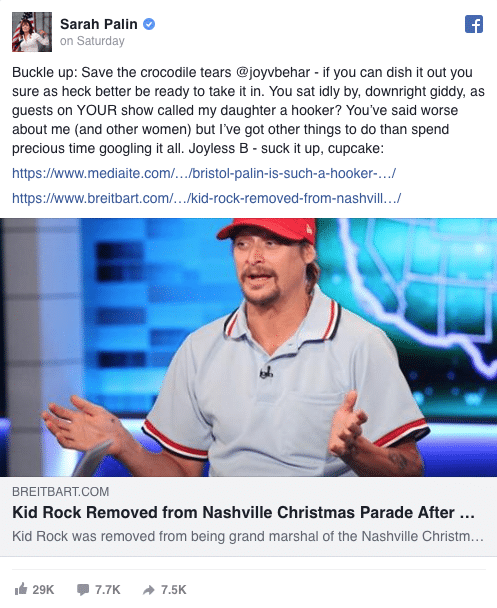 'Buckle up,' Palin wrote on her Facebook page. 'Save the crocodile tears @joyvbehar – if you can dish it out you sure as heck better be ready to take it in.'

'You sat idly by, downright giddy, as guests on YOUR show called my daughter a hooker?

You've said worse about me (and other women), but I've got other things to do than spend precious time googling it all.'"
If you're shocked that Behar would be so two-faced, don't be. Liberalism and double standards go hand-in-hand.
They spew the vilest attacks against conservatives; we've seen Democrats call for the death of President Trump and his family.
And woe to you if you are a conservative woman!
The things leftist women say about conservative wives, mothers, and female professionals would shock a biker gang.
Sarah Palin, as well as all conservative women in politics and news, are routinely mocked by liberals like Behar.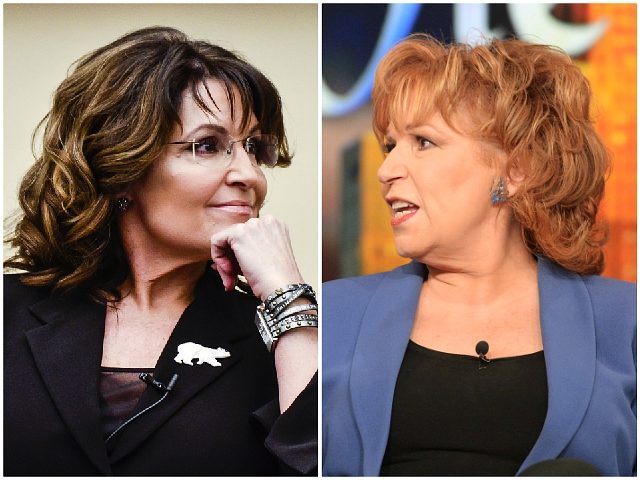 Democrats in the media have said some of the most sexist, vile things about First Lady Melania Trump, too.
Of course, had they been said about Michelle Obama, there would have been rioting in the streets.
Yet this is liberalism in the 21st Century: they attack, slander, and mock conservative women.
But when one man calls Behar a b*tch, we're supposed to be outraged?
HA. Nope.
Source: Breitbart