Chick-fil-A Honors WWII Hero With Incredible Gift – Just WOW!
We love our military veterans.
No one in our country deserves respect more than those who have served in our armed forces.
Unfortunately, under the Left's rule, our veterans always seem to come last.
The Obama administration certainly never seemed to care, and every Democrat on earth wants to cut military funding.
But certain companies in America remain patriotic and highly respectful of the sacrifices our veterans have made.
And what one major restaurant chain just did for a real American hero is inspiring people all over the country.
From CBN News:
"A Chick-fil-A restaurant in Avon, Indiana just honored one of their favorite customers with free food for life.
Ernie, a World War II veteran, first started coming to the restaurant about a year ago.  Now, he comes back for a lunch of chicken nuggets and root beer nearly every day.
'I like nuggets,' Ernie told Fox 59. 'And if you want a good one, this is the place to come.'
'All of us take turns sitting with him and eating with him,' said team leader Amy Chambliss. 'We just enjoy his company.'
In an effort to honor Ernie for his service, employee James Cooke came up with an idea.

He suggested that Ernie would no longer have to pay for his meals at Chick-fil-A.
The shy veteran initially tried to refuse the kind offer from Chick-fil-A, saying it "wasn't fair", but the restaurant staff wouldn't hear of it.
And why?
Well, the owner of this particular Chick-fil-A is a veteran himself, and he explained that Ernie's company means MUCH more to the restaurant than Ernie's money.
Chick-fil-A is a frequent target of the Left for their pro-Christian values, and they were recently banned from opening a new restaurant at a college in New Jersey because of their stance on gay marriage.
Does that sound "tolerant" to you…?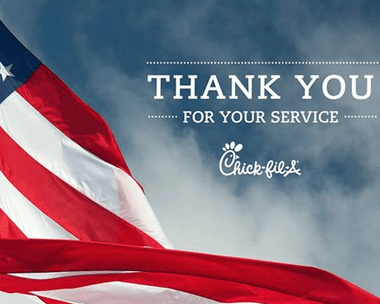 But despite the Left's constant attempts to put the restaurant out of business, Chick-fil-A continues to be one of America's most profitable fast food chains, making more money per restaurant than even McDonald's.
Their outstanding customer service has definitely put them over the top, and they constantly find ways to give back to the community, especially to veterans.
And did you know that every Veteran's Day, Chick-fil-A offers free sandwiches to those who have served…?
This company's uplifting treatment of Ernie is just another example of their dedication to serving food with a side of kindness for our brave servicemen.
Thank you for your service, Ernie!
Source: CBN News