Pelosi Finally Offers $5B Shutdown Deal – But Trump Better Tear It Up
Nancy's giving him all the money he wants, but Donald should shred it after reading the fine print.
Sometimes it's hard to tell if the Democrats work for Americans or for the Mexican cartels.
The Left is using the wall to play politics and risk American lives, and the resulting shutdown is now frustrating both sides of the aisle.
Government employees want to get their paychecks, and Republicans want to see Congress take border security seriously.
Now it looks like we're approaching the day we've all been waiting for – when Nancy Pelosi finally cracks.
Her Party has offered a potential deal, but once Trump reads the fine print, he had better set it on fire along with the swamp Pelosi came from.
From Breitbart:
Democrats are drafting a plan that would enhance border security with a one-time $5 billion boost in spending — but still not provide a penny for a durable border fence that would curb the smuggling of labor or drugs, states a report in Politico.

The Democrat plan would expand the pending Democratic plan to spend $1 billion extra for one year on improving security at the "Ports of Entry." Neither plan is expected to include any funding for a border fence that would constrict the smuggling of drugs nor any legal reform that would reduce the smuggling of workers via the various asylum and "catch-and-release" loopholes.

The $5 billion plan is expected to fund "a virtual wall" of sensors.
SHARE to tell Trump to reject any deal without the border wall!
Pelosi will present this plan to the President this week, but Trump is extremely unlikely to get on board with the Democrats and their "virtual wall".
Sensors are simply not as effective as a physical wall, and the Democrats know it.
Despite the obvious stupidity of Pelosi's plan, the proposal is actually a good sign. After the Left's constant stream of No, No, No, we're actually getting somewhere.
Of course, Pelosi's not offering something acceptable to the president, but he's gotten her to open the lines of communication and offer the amount he's been demanding.
And with her own Party breathing down her neck, it's only a matter of time until she takes that terrible stipulation out and agrees to fund the wall.
Federal workers are beginning to turn on the Democrats because it's become obvious that they only care about opposing Trump, not reopening the government,
The Republicans are currently doing more to pay government employees than the Democrats are, and have voted twice to get them their paychecks.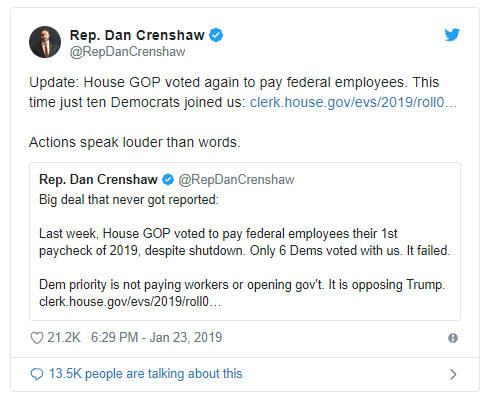 It's time for Pelosi and her Democrats to admit they've lost and reopen the government.
And more importantly, it's time to give the President what he's been demanding on behalf of our country's security.
SHARE to tell Trump to reject any deal without the border wall!
Source: Breitbart