Nancy Pelosi Just Got A Stunning Surprise – Look What Jumped Over Her Wall
What goes around comes around.
Democrat leader Nancy Pelosi is on record saying a border wall is "immoral."
Apparently, it's not "moral" to protect the citizens of a nation, but it's "compassionate" to care about those who attempt to invade that nation.
Such is the leftist rhetoric.
However, many have accused Democrats like Pelosi of being hypocrites, as they all live with the added security of a wall around their homes.
And now, to drive home that point, conservative activist Laura Loomer and some illegal immigrants have given Nancy a BIG surprise.
The best part is that it was all live-streamed on Twitter for the world to see!
Right-wing activist Laura Loomer, last seen chaining herself to Twitter HQ, has jumped the fence at Nancy Pelosi's Napa home and set up a tent protesting immigration. Now she's chanting "Nancy, Nancy!" pic.twitter.com/Te4W2Ut6Pa

— Will Sommer (@willsommer) January 14, 2019
Loomer is making the illegal migrants carry the tent around pic.twitter.com/dMcU1r5T1d

— Nick Monroe (@nickmon1112) January 14, 2019
Loomer and the illegal migrants chant "NANCY NANCY" as they go to see if Nancy Pelosi locks her front door pic.twitter.com/vOq97OtYcs

— Nick Monroe (@nickmon1112) January 14, 2019
Livestreamer explains the tent has pictures of people who died at the hands of illegal immigrants pic.twitter.com/6MDTpjBxqp

— Nick Monroe (@nickmon1112) January 14, 2019
Loomer, who was recently banned by Twitter and has taken part in many protests (including chaining herself to the doors of Twitter's New York offices), led the charge.
And it was quite the sight.
At one point in the video, Loomer marched to the door of Pelosi's mansion, demanding access so she can make a "sandwich" with the illegal aliens.
Of course, authorities were quick to show up on the scene but by that time, Loomer's point had been made: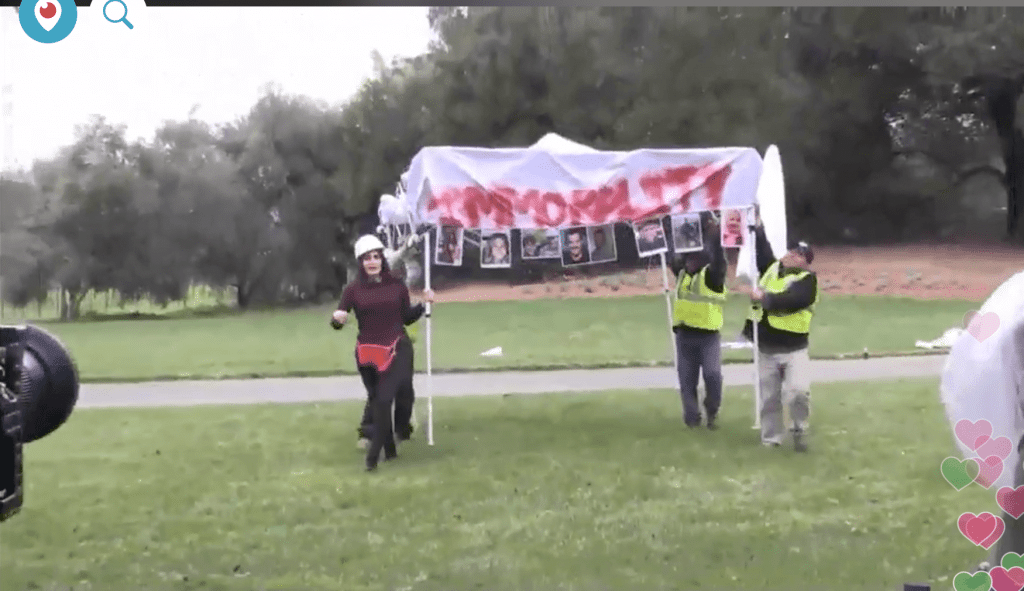 If you truly care so much about illegals, you need to be inviting, right?
Why not welcome them all in and give them food, shelter, and hey, how about full healthcare coverage, too?
This is exactly the sort of illogical, irrational insanity we're fighting.
And hilariously, Pelosi just got a front-row seat to her own hypocrisy!
Source: The Daily Caller