After Pelosi Refuses To Fund Wall – Moms Drop Angel Hammer On Her
Chuck and Nancy won't protect Americans – so the Angel Moms went where they weren't "allowed."
The partial government shutdown is now the longest in our country's history, and Nancy Pelosi and Chuck Schumer are proud to own it.
But now they're feeling the wrath of commonsense Americans.
Their refusal to work with the President on border security shows that their loyalty does not lie with protecting our country.
Now Angel Moms are taking the fight right to these non-negotiating Democrats, and they're refusing to be ignored any longer.
From Breitbart:
A group of Angel Moms on Tuesday are protesting inside Senate Minority Leader Chuck Schumer's (D-NY) Capitol Hill office over the Democratic leader's refusal to support legislation to fund a U.S.-Mexico border wall as the partial government shutdown continues.

Earlier Tuesday, the Angel Moms protested inside the office of House Speaker Nancy Pelosi (D-CA), who refused to meet with the group, and were reportedly lied to about the Democrat leader's whereabouts.

"Speaker Pelosi would not meet with the Angel Families," Women For Trump organizer Amy Kremer said. "As a matter of fact, they told us the speaker wasn't there at that office and while we were there, somebody came in that had a private meeting with her and they escorted her back behind the wall!"
SHARE if you support the Angel Moms storming Pelosi and Schumer's offices!
It's ridiculous that Chuck and Nancy are hiding from these Angel Moms. The Democrats can advocate for open borders, but can't confront the victims of their policies.
Sabine Durden lost her son Dominic to a border jumper, and was appalled that no one would meet with her.
"It's a slap, it's a stab, it's a kick in the gut, in the groin."
If the Angel Moms were border jumpers, Chuck and Nancy would have been happy to speak to them.
It's terrible that these mothers have to storm these offices in order to get their stories out, but they're going to make sure they're seen.
The stories of these women desperately need urgent attention, because, as one Angel Mom pointed out, "The border crisis is getting worse."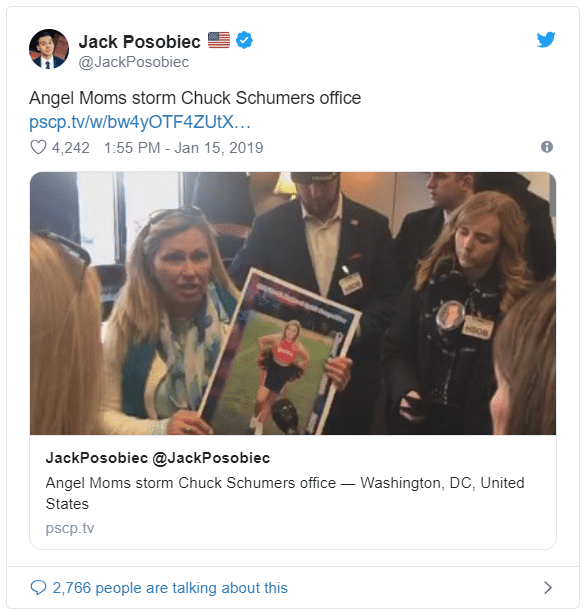 "The politicians in DC are not doing their jobs, so it's time we the people stand up and visit the people who aren't doing our bidding," another mother said.
These women's stories paint a tragic picture of our country. Their loved ones were true victims of preventable crimes, but the Left doesn't care about them.
The Left will do whatever it takes to protect people who jump our borders. But what about American citizens?
Despite their obvious frustration, these Angel Moms showed the Left how to protest properly. While holding photos of their deceased loved ones, the women calmly told their stories.
There was no harassing and no rushing elevators.
Hopefully their tactics work and the Democrats start paying attention to the border crisis before another Angel Mom is created.
SHARE if you support the Angel Moms storming Pelosi and Schumer's offices!
Source: Breitbart