President Trump Gives Veterans A $86 Billion Gift, Shows What Kind Of Man He Really Is
America's veterans never thought they would see this day, but Donald pulled it off.
It's a sin to neglect American veterans.
Unfortunately, past presidents talked big but did little to help the men and women who fought to protect us.
In reality, Veteran's Affairs has been one of the most corrupt, pathetic agencies in government … to the great shame of our nation.
All that has changed, however: President Trump just signed a bill that provides a whopping $86 billion to our vets.
And this windfall empowers our respected vets in a big way, as you'll soon see.
Then, after unwrapping this fantastic gift, the President capped it off by offering a few words of hope to our soldiers.
From Western Journal:
"You backed me and I back you. That's the way it works," Trump said Friday as he signed the Veterans Administration's 2019 budget into law.

"To every veteran here today: We are eternally grateful for your noble service to our nation.

Today, for the first time in American history, I am about to sign a bill that will fully and permanently give our great and cherished veterans choice…"
That's right: choice. Vets will finally be able to get necessary funds from the VA to use for medical treatment.
And guess what?
That $86.5B fiscal budget for 2019 is the largest budget ever for the VA!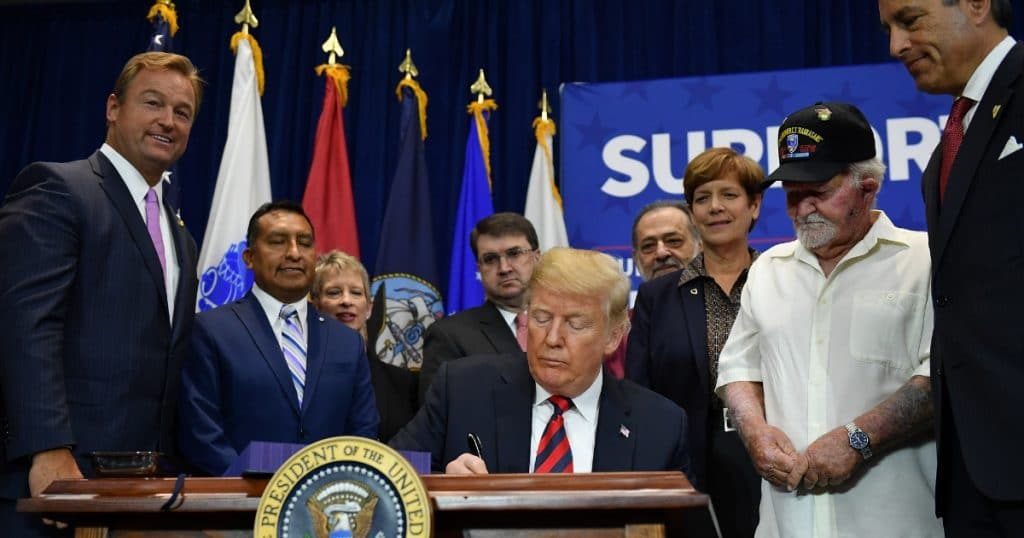 Trump made it very clear that not one veteran will be left behind. Every man and woman who risked their lives—often suffering the unimaginable—will get the care they deserve.
The words Trump shared are 100% true. But it's been a long time since we heard a president say them, hasn't it?
And furthermore, Trump is backing those words with action: he is empowering veterans with the help they so urgently need.
He is saying to our soldiers: you are not forgotten. You will never be forgotten.
Share this great news if you stand with President Trump in supporting our valuable veterans!
Source: Western Journal