After Rat Lawyer Betrays Trump, Donald Unleashes The Hammer Of Justice
Cohen flipped on his old boss, but he didn't see 'The Donald' coming.
Looks like Michael Cohen is shaping up to be the worst lawyer in history.
After trying to throw Donald Trump under the bus earlier in the year, he's at it again. The liberal media is on a roll today, excited over Cohen's recent claims.
According to reports, he pled guilty to lying to Congress over a statement he made. This process crime has been twisted to suggest Trump was working with Russia over a business deal in 2016.
The dishonest media is trumpeting the news like it's a smoking gun for impeachment.
But the president just dropped the hammer on his old lawyer and the lying press.
From Mediaite:
The Commander in Chief called Cohen a "weak person and not a very smart person" and "what he's trying to do is get a reduced sentence." It is not clear if Trump is claiming that Cohen lied to Congress in 2016, a charge to which he has pleaded guilty, or is he claiming that Cohen is lying about the previous lying to Congress.

At issue was the development of a Trump Tower hotel in Moscow, which Trump explained as a "well-known project" that "everyone knew about."  Trump defended looking into the real estate development as a "deal that didn't happen" but that if he "did do it, then there would have been nothing to it," as he was running his business while running for president.
Again, the liberal, anti-Trump media is trying to stir up controversy where there is none.
They once claimed Trump colluded with Putin to steal the 2016 election. There has never been evidence to prove this.
SHARE if you believe Trump is innocent!
Now, they are pointing to a failed development deal—a deal that never went through—as evidence of electoral collusion?
They are just getting pathetic.
As the Mueller probe and the corrupt media go on and on over this, they continue to neglect real crimes committed during the election. Those include the antics of the Clinton campaign. Trump was quick to call them out on it.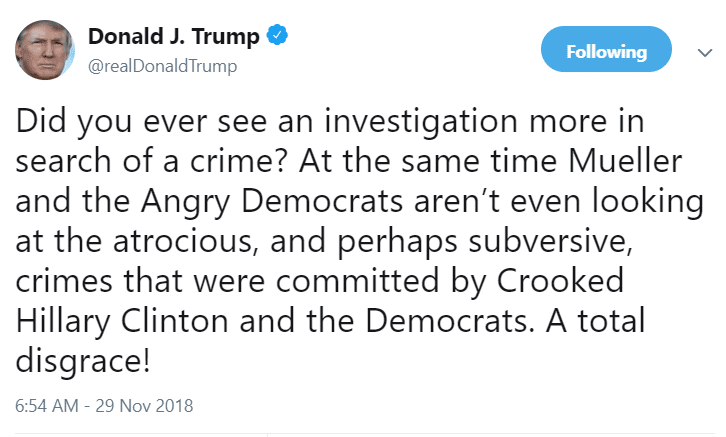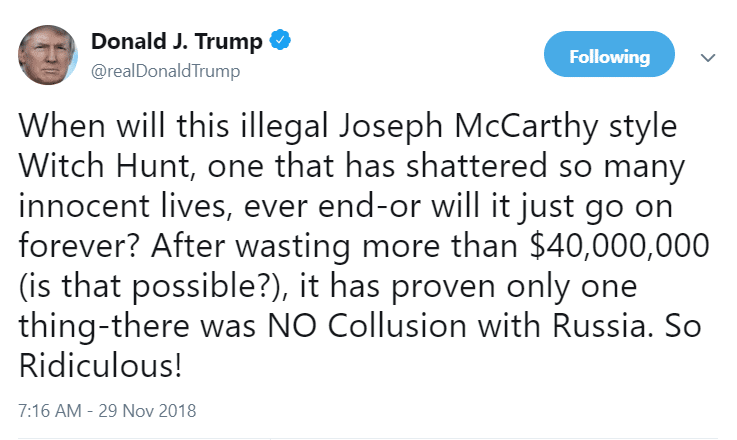 Did you ever see an investigation more in search of a crime? At the same time Mueller and the Angry Democrats aren't even looking at the atrocious, and perhaps subversive, crimes that were committed by Crooked Hillary Clinton and the Democrats. A total disgrace!

When will this illegal Joseph McCarthy style Witch Hunt, one that has shattered so many innocent lives, ever end-or will it just go on forever? After wasting more than $40,000,000 (is that possible?), it has proven only one thing-there was NO Collusion with Russia. So Ridiculous!
That's just for starters. Clinton committed a litany of suspicious actions during the election, including taking over her own party a year before the nomination.
There is a long trail of evidence that she, not Trump, colluded with Russian agents to craft a fake dossier. That dossier was meant to smear Trump, destroying his chances at winning.
Yet where is her investigation? Why isn't Mueller looking at the real evidence and the real crimes?
How much more evidence do we need to prove Mueller's probe is a witch hunt?
SHARE if you believe Trump is innocent, but Cohen, Hillary and Mueller are political criminals!
Source: Mediaite