After Mitt Romney Flip-Flops On Trump, Donald Drops His Presidential Hammer
The new Senator betrayed his President, so Donald hit him right where it hurts.
Mitt Romney was once a respected member of the GOP. Yet, his reputation as a flip-flopper cost him the vital 2012 Election.
We could have avoided 4 more years of Obama, had Romney stood for his principles.
In 2016, a bitter Romney refused to back Trump. Then suddenly, in 2018, he enjoyed a bump from Trump in order to win his Senate race.
Surprise, surprise! Now that's about to be sworn in, he flipped again, trying to put Trump's negotiations on the shutdown and the Wall in jeopardy.
From the New York Post:
Mitt Romney offered some criticism of President Trump on Tuesday and announced that he will continue to "speak out" against "destructive statements" made by the White House.

Romney, who will be sworn in as Utah's GOP senator this week, claimed in an opinion piece for The Washington Post that President Trump "has not risen to the mantle of the office."
But Donald Trump is not someone to be double-crossed. He's dropping a hammer on this flakey newbie senator.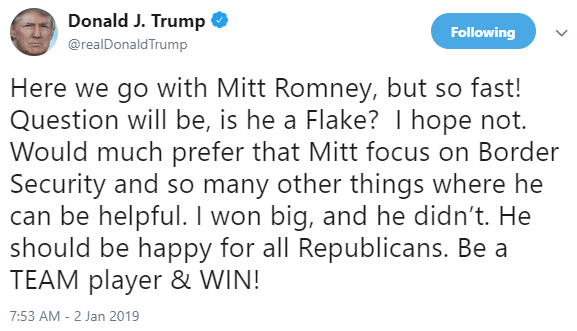 "Here we go with Mitt Romney, but so fast! Question will be, is he a Flake?  I hope not. Would much prefer that Mitt focus on Border Security and so many other things where he can be helpful. I won big, and he didn't. He should be happy for all Republicans. Be a TEAM player & WIN!"
SHARE if you agree Trump's response to the flip-flopper is PERFECT!
This is why so many Americans despise Mitt Romney. He claims to be this conservative, upright leader.
But time and again we've seen him betray his values and allies, in order to score political points.
Does he really think in this day and age being NeverTrump will work? Does he think he has a chance at keeping his seat when he attacks Trump?
Maybe. He won't be up for reelection until 2024. Trump won't be in office by then, so he can say whatever he wants!
Proving he doesn't care about the well-being of America, but his own political ambitions.
Good thing he never became president!
What Romney isn't counting on is the resolve and determination of President Trump. He's no political push-over. If Mitty wants to be successful in D.C., he better learn that the GOP is now the party of Trump.
Most NeverTrumpers are long gone. They lost their seats in 2018. The vast majority of Republican voters back the president.
Romney must really have a screw loose.
SHARE if you support President Trump over the flip-flopper!
Source: New York Post