After Man Roundhouses Pro-Life Woman, He Gets A Double Dose Of Justice
He thought he would get away with it – instead he got taken down twice.
With each passing day, the Left becomes more and more violent.
Just this past week, a peaceful demonstration was taking place, standing up for the lives of unborn children.
A scum bag leftist saw it as an opportunity to hurt a stranger. This man roundhouse kicked a defenseless woman, just because she was pro-life and giving her a reasonable argument. The video is below if you haven't seen it yet—it's pretty despicable.
People were disgusted, but it looked as if he would get off scot-free. Except, the idiot showed his face on camera.
Now karma is kicking him where it hurts.
From Breitbart:
Nobles Studio 101 in Toronto, Canada, has fired its hairstylist Jordan Hunt after he was caught on camera assaulting a pro-life activist at a peaceful rally: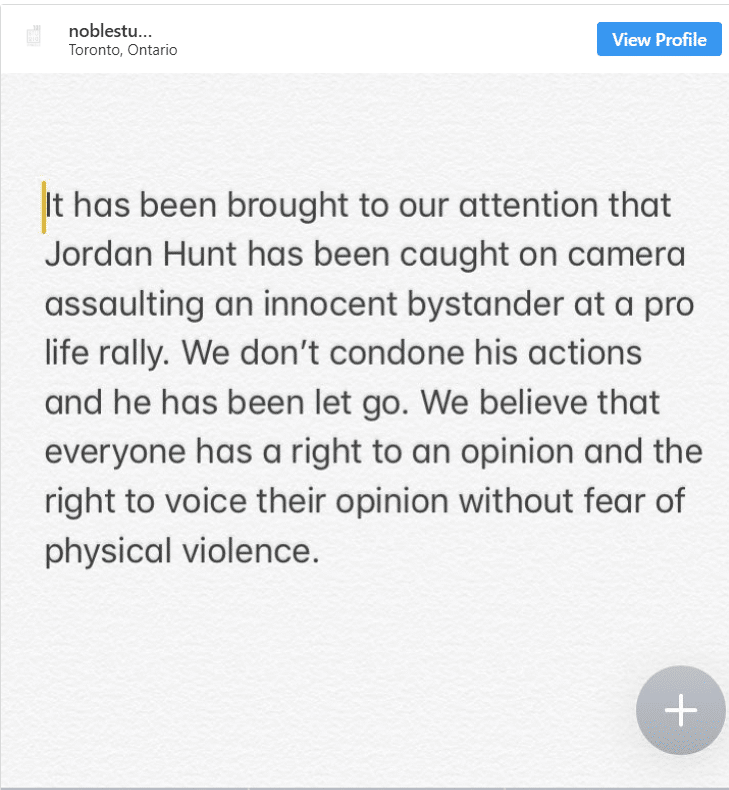 Oh, but that's not all. That wouldn't have been enough, but then real justice was served.
In the latest update, The Blaze reports that the hammer really has fallen on him for his violence:
Jordan Hunt of Toronto surrendered to police Saturday, the Toronto Sun reported, adding that he faces eight counts of assault and seven counts of mischief under $5,000 in relation to the Oct. 1 incident.

Seven of the eight assault charges are in connection to Hunt allegedly scribbling on protesters' clothing; the eighth assault charge is in connection to the kick, the Sun added.
Share if you think he got what he deserved!
Already the salon is getting death threats for doing the right thing.
Why? Because leftists have resorted to a strategy of violence. They want to intimidate anyone who stands up for Free Speech.
Conservatives are in their crosshairs. They will do anything to intimidate us, force us to back down or be too afraid to speak our minds.
These are the tactics of bullies, thugs, criminals, and fascists. And the tactics of losers.
This man got what he deserved. His job had every right to fire him. And thank goodness that after taking their time, the police arrested him and it seems that (after due process!) he will pay for his crimes.
What do you think?
Share if you think he got what he deserved!