After Russia Misbehaves, Trump Drops The Hammer On Putin
Putin thought Donald would roll over – so Trump showed him who's boss.
Trump's relationship with Russia has taken centerstage since his election, but for all the wrong reasons.
The Left keep parroting the baseless claim that Russia "hacked" our election while providing no evidence to back it up.
But the President's latest move is destroying the liberal narrative that Trump is Putin's puppet.
In reality it's the Democrats who have been Russia's plaything. Back in 2014, under Obama's watch, Russia annexed Crimea from Ukraine. Obama claimed to condemn the move, but did nothing to stop it.
Russia still considers Crimea to be theirs, and recently opened fire on Ukrainian boats near Crimea. They then seized the Ukrainian boats and their crews.
Putin thinks he can get away with this because he's long underestimated the United States.
But Trump is now showing Putin who's boss.
From Twitter: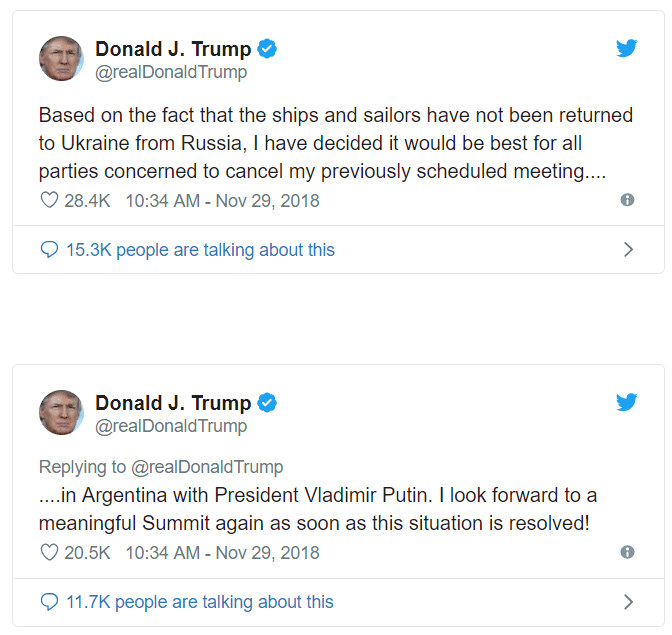 SHARE if you think President Trump is putting America first in the world!
Trump just sent powerful message to both Russia and the world that this type of aggression will not be tolerated.
Russia has stated that 5 of the 24 Ukrainian sailors who were captured will be imprisoned for two months, and Putin has laid all the blame for the incident at Ukraine's feet.
But Ukraine has insisted that Russia instigated the incident, and have denied Putin's claims that they were in Crimean waters illegally.
Trump's pressure on Putin will hopefully make the world power behave again.
SHARE if you think President Trump is putting America first in the world!
Source: Twitter