Santa Gives WWII Vet A Heartwarming Christmas Present – It's Going MEGA Viral!
Santa Claus is all about giving gifts.
But sometimes, it's the gifts we don't have to unwrap that mean the most.
Just ask 93-year-old World War II veteran Bob Smiley.
Smiley was shopping at the Concord Mall in Wilmington, Delaware, when he received one of the nicest Christmas presents ever…
From Old Saint Nick himself!
To the amazement of many, Santa got down on one knee and thanked the veteran for his brave efforts in serving his country.
(Note: video may take a moment to load – just wait for it, it's WORTH IT!)
Gina Wilbur captured the scene and said:
"I hear Santa telling the gentleman, in a soft voice, of others he knew who served. He shakes his hand with genuine gratefulness thanking him for his service."
Wilbur took a snapshot of the unbelievable event and put it on Facebook, where it rapidly went viral.
EVERYONE wanted to see this heartwarming gesture, performed by the most legendary gift-giver ever!
And here's what Santa had to say:
"We owe a debt of gratitude to men like this that have made such a life-changing decision to give of themselves, be willing to lay down their life even, for other people."
As for Smiley, he said that for his generation, it wasn't really about sacrifice … it was about "duty."
"We all went, we all served," he said. "Every boy in my high school graduating class all served.

Out of 35 boys, five were killed and they were my friends for 13 years of my life."
And when someone thanks him for his service, Smiley doesn't just shrug it off.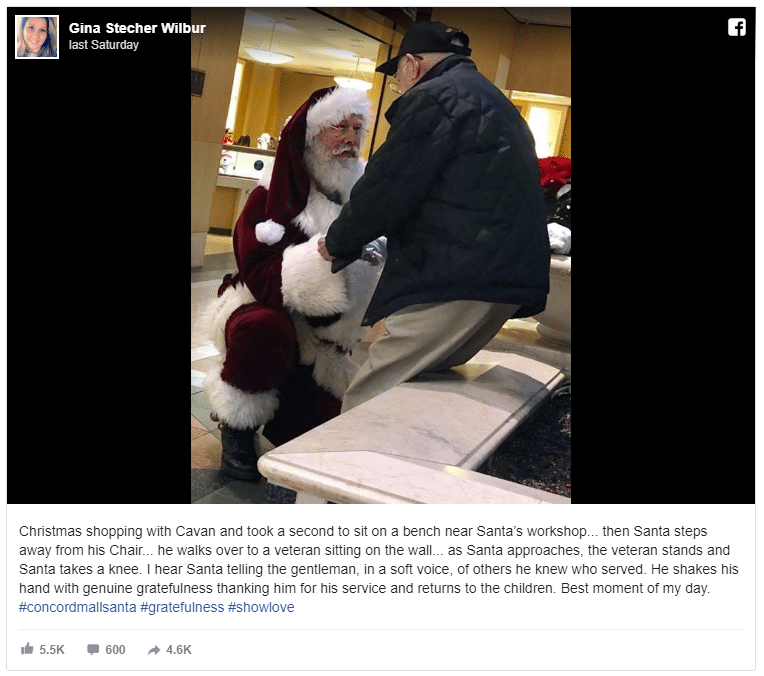 He appreciates it the same way true patriots appreciate him:
"I try to show my appreciation when they do thank me," he said.

"I thank them for thinking about us."
Sometimes we forget what the holiday season is all about, and we also forget what our brave veterans did for us.
We also forget that Christmas isn't all about presents.
But in this wonderful scenario, Santa proved to the whole world that what matters most is appreciation, respect, and as Smiley said, "duty." 😀
Source: Fox News